Full Moon Bike Ride & Bicycling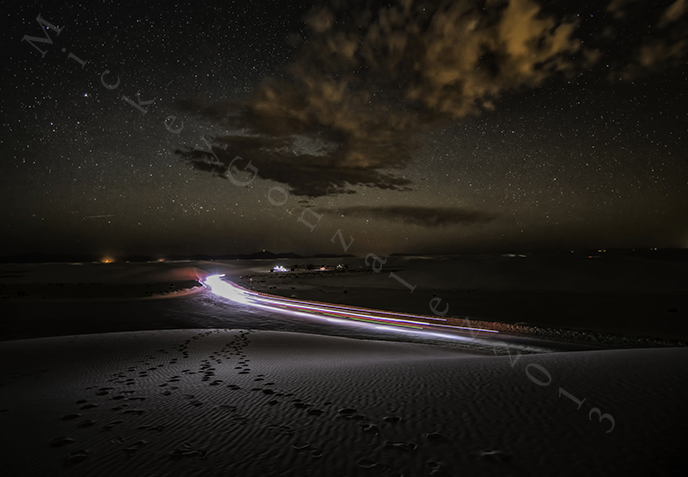 Copyright Mickey Gonzalez 2013. Used with permission.
Bicycling in the Monument - General Use
Bicycling is allowed along the Dunes Drive. Bicyclists must pay the standard park entrance fee. Helmets are required. No off-road bicycling is permitted. All bicycles must stay on the Dunes Drive or parking areas.
CAUTION: The Dunes Drive is narrow with steeply-sloping shoulders. Bicyclists should be extra cautious of vehicular traffic.
2016 Full Moon Bike Ride
The Full Moon Bike Ride is a leisurely ride with your friends and family through the monument. For these rides, the Dunes Drive is re-opened for three hours after dark for bicycles only. No cars are allowed to enter the monument or be on the road during the event. The bike ride is offered twice year. Reservations are required.
Cost:
Program fees of $8 per person for anyone 16 years and older and $4 per person for anyone 15 years and younger apply. Monument entrance fees also apply. These fees are $5 per person for anyone 16 years and older. Anyone 15 years and younger is free. Federal passes such as the America the Beautiful Annual, Senior, and Access passes apply only to the entrance fees and not the program fee. All fees may be paid up to 24 hours in advance of the event at the entrance station.
To view pictures from the April 2011 Bike Ride taken by Albuquerque Journal photographer Dean Hanson, click here.
2016 Bike Ride Dates
Friday, April 22, 2016 at 8:00

p.m.—

Saturday, October 15, 2016 at 8:00 p.m.—
Things to Keep in Mind when Registering
Submit your form as early as possible. This event is incredibly popular and fills up quickly, often within just a few hours of registration opening.
We can only accommodate 90 vehicles. Carpooling is highly encouraged so as to allow more people a chance to enjoy this very popular event. If you plan to ride with friends and must drive separate cars, please consider meeting at a location in Alamogordo and then driving to the park together in one vehicle.
Only 1 vehicle per reservation is allowed. Because we have limited parking available, forms with more than one car noted will not be processed.
If capacity has been met when your reservation is received, you will be notified. If your reservation is accepted and you find that you are unable to attend, please notify us so that someone else may have your spot.
Check-in at the monument begins one hour before the ride starts. Please be prepared to check in with staff upon arrival and to have your bikes inspected for safety equipment at a safety station.
If weather forces cancellation of the ride, there will NOT be an alternate date scheduled.
How to Register for the Bike Ride:
Reservations are required and are accepted one month in advance of the date of the ride. Reservations will not be accepted by telephone. The fees for the bike ride are explained below.
The reservation form will be available for download when the registration period opens. You may submit your reservation form by downloading the full moon bike ride form and doing one of the following options to return the form:
1. Email form to whsa_interpretation@nps.gov placing the wording "Full Moon Bike Ride" in the subject line.
2. Fax form to 575-479-1116.
3.Mail form to White Sands National Monument, P.O. Box 1086, Holloman AFB, NM 88330.
If you have any additional questions regarding the ride, you may call the monument at 575-479-6124, ext. 236.
When the form will be available:
To help mitigate any server issues or other circumstances, we usually have the form uploaded onto the website the night before registration opens. There are occasions when this does not happen due to various reasons (staffing, server problems, etc). In those instances, we try to have the form available no later than 9:00 am on the morning that registration opens. Forms will not be accepted before 8:00 am Mountain Time on the day registration opens (see note below).
Please note: Forms are processed in the order they are received according to the date/time stamp on them (faxes included). Any forms received before 8:00am Mountain Time on the day registration opens will not be processed.
Renting bikes:
You must bring your own bikes, emergency repair kits, and spare tires. We do not rent bikes at the monument nor do we have any of these supplies available.
If you need to rent a bike, you can do so from:
Outdoor Adventures in Alamogordo (575) 434-1920
Outdoor Adventures in Las Cruces (575) 521-1922
High Altitude in Cloudcroft (575) 682-1229
Mandatory Safety Requirements
To ensure an enjoyable and safe ride, all participants must have the following:
Helmets

Front and rear lights on every bike (please note that rear lights must be red)

Closed toe and heel shoes to prevent injury during the ride
People who no not have the required safety requirements (front lights, rear lights, helmet) WILL NOT be allowed to participate in the ride. Rear lights must be red. If you have any questions, please contact us at 575-479-6124 x232.
No Show Policy
Because space is limited and to allow opportunities for everyone to enjoy a full moon bike ride, "no shows" will not be allowed to register for another Full Moon Bike Ride. Please call and cancel your reservation if you are unable to participate. Also, if the number of people in your group has changed, please call to let us know. When you arrive for check-in, the number of people we have listed for your party must actually show up for the ride or else your group will be considered a no show.
Directions for Submitting the Form:
When you download the form, you will see three buttons in the upper right-hand corner. The following will explain what the three buttons do.
1) Email Form:
Desktop Email Clients: Use this button if you have and use an email client such as Outlook, Outlook Express, Eudora Mail, or other desktop email clients. This button will open your email client and attach the form to an email for you. All you need to do is fill in the "To" and "Subject" fields. You must save the form (instructions below) before attempting to attach it to an email in order to preserve the information you entered into the fields. Otherwise, the form will be sent to us blank. Make sure to click on "Send Copy" if it asks you how you would like to send it. If you choose "Send Link", we will not receive it.
Web-based Email Clients: If you use a web-based client, such as Yahoo, Hotmail, or Gmail, you will also need to save the completed PDF file to your computer using the steps below. Then, sign into your email account in your browser. Compose a new email, just as you would normally, and attach the PDF form to your email using the procedures for your particular email provider.
2) Save Form:
This button will save the PDF to your computer. After you have filled it out, click the Save Form button. This will open the "Save A Copy" dialog window. Enter a file name and save it to a location that you can easily access it from.
3) Print Form:
This button will send the PDF to your default printer. If you do not wish to email it, then this way you can mail or fax the form back to us.