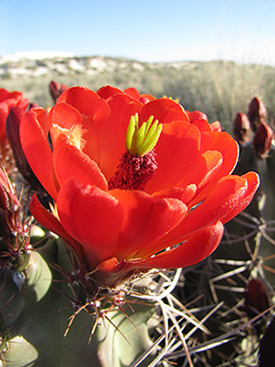 NPS Photo
Cacti and Succulents
Other native plants of the Chihuahuan Desert are found in the surrounding desert scrub environment, such as four-winged saltbush, pickleweed, and rubber rabbitbrush. Plant-lovers will also find tree cholla, claret-cup cacti, and soaptree yucca interspersed throughout this area.
The Desert in Bloom
Each season presents a different floral show, bringing splays of color to the white dunes. The stars of spring and early summer are the stately cream-colored blooms of the soaptree yucca. Reaching high above the dunes, the yucca flower stalks herald in a new year of beauty. Purple sand verbena, yellow blazing star, white pepperweed, and pale green-yellow Hartweg's sundrops burst forth in April. In May, yellow evening primrose, greenthread, and bright pink gypsum. centaury add to the show. Cacti add a touch of bright red on tree or cane cholla and the mounding claret cup.
Some of spring's blooms brave the summer's heat. Pepperweed, blazing star, and gypsum centaury linger on into the early summer months. Late summer brings tall spikes of orange blooms on the beautiful globemallow.
Autumn displays a show of color all its own as mounds of rubber rabbitbrush turn golden yellow and the leaves of the skunkbush sumac change into a brilliant rusty red. Rio Grande cottonwoods wave yellow-orange leaves and cowpen daisies nod yellow heads in gentle fall breezes.