Insects, Spiders, Centipedes, Millipedes
The desert is a harsh place to live but that doesn't stop the insects at White Sands National Monument from making homes in the dunefield. From centipedes to scorpions, beetles to
spiders
, and ants to wasps, insects make up the largest population of creatures in the monument. Some of the most common insects can easily be spotted at the right time of year. At White Sands, you are a guest in their home so please do not pick them up or bother them—respect all wildlife, both big and small!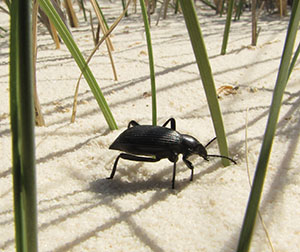 NPS Photo
There are many species of beetles that live within the monument, including the Leaf Cutting Beetle, the Tiger Beetle, and the Darkling Beetle. The Darkling Beetle is one of the most common insects seen skittering across the dunes from plant to plant and can grow up to two inches long. There are many different species of Darkling Beetles at White Sands, each specialized to particular habitats and seasons. They are scavengers of dead plant material and although they tend to wander mostly at night, you can see them pretty much at any time of day.
Sometimes Darkling Beetles are referred to as stink bugs—and for good reason! When threatened by any would-be predators, the beetle will raise its abdomen into the air as a warning. If the predator continues to harass it, it will spray a foul-smelling liquid from the posterior tip of its abdomen to drive the predator off. Although this chemical will stain your skin purple or brown if you get any of it on you, it is not harmful.
Moths are plentiful at White Sands. In fact, there are more than 30 species of moths that are endemic to the dunefield, meaning that they do not exist anywhere else in the world. Another species, the Yucca or Pronuba Moth, is solely responsible for the pollination of Soaptree Yucca plants. There are several species of yucca moths throughout the Southwest and each one specializes in a different species of yucca.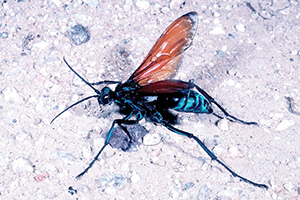 Copyright Dr. David Lightfoot
The Tarantula Hawk is one of the largest wasps in the world, with females getting as large as 1.75 inches long and males 1.5 inches long. Despite their alarming size, they are not aggressive or likely to sting humans. Only females possess a stinger. The female wasp hunts for tarantula burrows during the daytime. Once she finds one, she uses her powerful stinger to paralyze the tarantula in order to drag it back to her own den. She then lays a single egg onto the top of the spider's abdomen. After hatching, the larva then bores its way into the spider, where it feeds on the internal organs, saving the vital organs for last. Adult Tarantula Hawks feed on the nectar of plants.
No matter where you go in the world,
spiders
are a very common inhabitant and the high desert area of the Tularosa Basin is no different. From tarantulas to wolf spiders, these eight-legged wonders make their homes in this arid environment as well. Spiders in general are shy creatures by nature and try to avoid contact with humans at all costs. Although all spiders are venomous to some degree, most pose no risk to humans. Some spiders, however, such as the Black Widow and Brown Recluse, can pose a danger. Never stick your hands or feet in holes, burrows, or other areas where you cannot see them as a spider or other creature may have living there.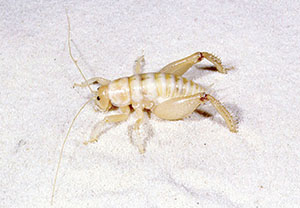 Copyright Dr. David Lightfoot
Two species of Sand-Treader Camel Crickets live only at White Sands, where they are adapted to life in the gypsum sand. They are called "sand-treaders" because they have specialized spines on their hind and fore-legs for digging in the sand. Like dogs, they dig in the sand with their front legs, using their hind legs to kick the sand several inches behind them. During the daytime, they stay burrowed beneath the sand and are only active at night, which is when they come to the surface to forage on dead plant material. Foraging is a dangerous activity for the Camel Cricket, as they are often hunted by scorpions and other nocturnal insectivores.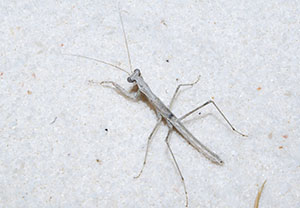 Copyright Dr. David Lightfoot
Another insect species commonly found at White Sands is the Minor Ground Mantis. These small, active, diurnal hunters are usually white in color with grey and black speckles. This coloration camouflages them against the backdrop of the dunes. Unlike larger green mantises, they do not hunt on plants. Instead, they run down their prey on the ground, grabbing them with their specialized raptorial forearms. They are ferocious predators that begin hunting the moment they are hatched and are sometimes cannibalistic. Females are larger than males and cannot fly, whereas some males can if their wings are large enough to hold them up.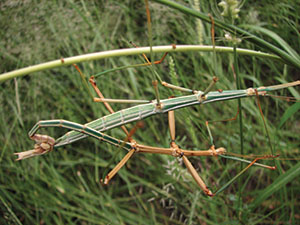 NPS Photo
The Mesquite Walking Stick is a mostly nocturnal creature, spending most of their day hiding under plants, which also provides them with food. Females tend to be larger in size than males. They do their best to mimic their surroundings in order to blend in. Unfortunately, this defense does not help them when bats hear them at night. When threatened, they will feign death in an attempt to deter any attacker. Sometimes, they will sacrifice a limb if playing dead doesn't work. Being very nutritious, they are heavily predated. Their flexible legs help them move and hang in bushes, which makes them even more difficult to spot.