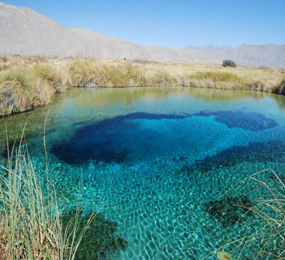 In Cuatro Ciénegas, water is more obvious. It rises to the surface in countless marshes, springs, ponds, and streams that are home to an incredible diversity of plants and animals.
In fact, Cuatro Ciénegas is recognized as an essential wetland ecosystem by the following organizations:
* Convention on Wetlands of International Importance (RAMSAR)
* National Commission for Knowledge and Use of Biodiversity (CONABIO)
* Parks in Peril Program, The Nature Conservancy
* Chihuahuan Desert Program, World Wildlife Fund
It is also considered to be one of the most important wetlands of Mexico by the North American Wetlands Conservation Council. And much like at White Sands, the unusual geology has led to extraordinary life at Cuatro Ciénegas. Its amazing network of springs and gypsum dunes are home to more than 70 endemic species found nowhere else on earth that depend on these waters for life.