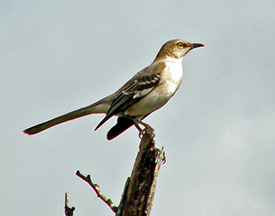 Copyright S. Noll
Other year-round birds include the Northern Mockingbird, the Loggerhead Shrike, the
Greater Roadrunner
, the
Chihuahuan Raven
, and the
Great Horned Owl
. The Northern Mocking bird is noted for its ability to imitate the songs of other birds. This highly territorial bird is about 10 inches long and has a grey coloration with conspicuous white patches on its wings. It eats mostly prickly pear cactus, fruit, and other plants. They are intelligent birds—the Northern Mockingbird continuously learns and adds new sounds to its vocabulary, with males learning approximately 200 different songs over the course of its life. Both males and females sing, but females are much more quiet than males. While all mockingbirds sing during the day, most of those heard at night are unmated males, and nighttime singing is more commonly heard during the full moon.
The Loggerhead Shrike (
see large image above
) grows to about nine inches long. Similar to the Northern Mockingbird, it is also greyish in color with white wing patches. However, it is distinguished from the mockingbird by a short, powerful beak and a black mask around the eyes. The solitary shrike is a fierce predator and is the only songbird that commonly hunts other vertebrate animals. On its beak are pointy projections called "tomial teeth." This helps the shrike tackle its prey—which often includes vertebrates like rodents and lizards—which it grabs by the nape of the neck, much like a falcon. The bird will impale its prey on thorns or barbed wire to save it for a future meal. It does the same with noxious prey like monarch butterflies and scorpions and will then wait up to three days before eating it in order to allow the poisons
to break down. Although somewhat small, the Loggerhead Shrike can carry a prey animal the same size as itself.