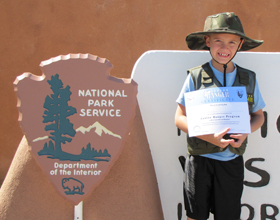 Become a Junior Dunes Ranger When You Visit!
The Junior Dunes Ranger program is a program for kids visiting the park with their families. It is a way to learn more about White Sands National Monument and the National Park Service and have fun at the same time. It's also a way that kids can help the park rangers take care of national parks.
There are four different age/developmental level activity guides: preschool (ages 4 -5), ages 6 - 8, ages 9 - 13, and age 14 and over. The activity guides have all kinds of different things in them. There are puzzles, coloring pages, scavenger hunt bingo, activities on desert safety, the visitor center, wildlife, nature manners, trails, and many more.
You can pick up your free Junior Ranger activity booklet at the Visitor Center or print the booklets before you visit by clicking here for the preschool booklet and clicking here for the booklet for ages 6 and up. Complete the activities and earn a Junior Dunes Ranger patch (or badge) and certificate.
Attention Boy Scout and Girl Scout Leaders -- If you are coming to the park with your troop and would like them to earn a badge or patch, you must contact the park two weeks in advance to make arrangements. We will work with you to create a project that will allow your troop to earn their badge or patch while learning about the park. We are unable to give junior ranger books to entire troops. Projects can include scavenger hunts, creative writing projects, or service projects such as park cleanup.