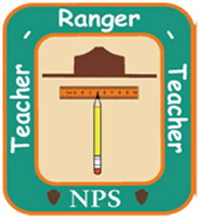 The Teacher-Ranger-Teacher (TRT) program links NPS units with in-service teachers from public and private schools. Teachers selected for the program spend the summer working in national parks as park rangers. They perform various duties depending on their interests and the needs of the parks.
The TRT program for each of the area parks is an 8-week program beginning in early June. All teachers receive an NPS uniform, and a $300 per week stipend for participating in the program. Specific questions about each site and its program should be directed to the contact person.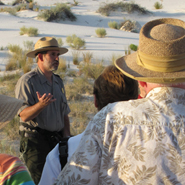 NPS Photo
White Sands is an unique resource encompassing the largest gypsum dunefield in the world. The TRT acts as a park ranger in the Interpretation & Education Division, performing duties such as nature walks, tent talks, and staffing the visitor center desk. In addition, the TRT focuses on the revision and expansion of curriculum, including virtual education resources. RV spots with hookups are available.
Contact: Emily Guss, Education Specialist
Phone: (575) 479-6124 ext. 231
Email: emily_guss@nps.gov