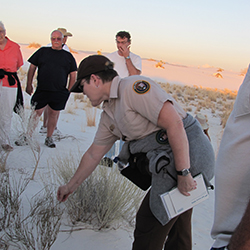 NPS Photo
Here at White Sands, for instance, RV-resident volunteers are scheduled to work about 32 hours per week, which includes time for planning and projects. Some of us join rangers and local volunteers at the front desk greeting visitors, sharing information about the park, and working with kids to become Junior Rangers. Others work on construction or maintenance projects. Given time to learn about the
animal
and
plant life
as well as the special
geology
of the dunes, volunteers also lead Sunset Strolls and other programs.
How great is that? It's my
job
to explore all corners of the park and learn as much as I can about this unique place. Then I get to share its special features with visitors from all over the world. Plus, I can build on my hobbies in photography and writing to work with rangers on
publications
and
programs
. Best of all, I have time to explore the many nuances of White Sands and this fascinating part of the American Southwest.