Closures and Missile Tests

Upcoming Missile Tests: From time to time the missile range that surrounds us performs missile testing that may require the closure of the park or Highway 70. Please follow the link below for up to date information on closures More »
Summer Monument Hours

The monument currently opens at 7 a.m. and closes roughly 1 hour after sunset. More »
Road Safety Corridor

The first four miles of Dunes Drive is a road safety corridor. Slowing or stopping in the corridor is prohibited. Dune Life Nature and Playa trails are also temporarily closed. The staff of White Sands National Monument apologizes for the inconvenience.
A Living Laboratory
Why a laboratory? Because new discoveries are being made here all the time! From our unique wildlife to our fascinating geology, there are many opportunites for your students to learn. You are welcome to bring your class to the park or check out our loan materials and ready-made lesson plans.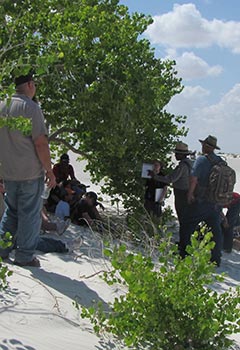 Features
Bring Your Class to the Park

Make White Sands National Monument your next educational field trip!

Read More

Invite a Ranger to Class

Would you like a ranger to come to your classroom? Contact us to arrange for an in-class presentation.

Read More

Traveling Trunks

When a field trip to the dunes is not an option, think about reserving one of our Teacher Resource Trunks.

Read More