Useful Information for Large Groups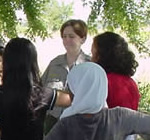 Whether you are a professional tour leader, an educator, or the person volunteered to coordinate the family reunion, the information provided below should help your visit go more smoothly.
Park Movie
The park movie is 20 minutes long.
The auditorium is wheelchair accessible.
The auditorium holds a maximum of 76 people.
Groups larger than 76 people may want to plan on two showings of the slide show to allow all group members an opportunity to view the show.

For More Information

Call 509-522-6360
Bus Parking
Buses can unload and load in front of the building. There are parking spots specifically for buses on the far curve of the parking lot.


Did You Know?

The Whitmans' mission was important to early Oregon Trail travelers. Those who were sick, tired, or hungry or who needed a wagon fixed would make the side trip to the mission. Some would spend the winter with the Whitmans before continuing on to the Willamette Valley.