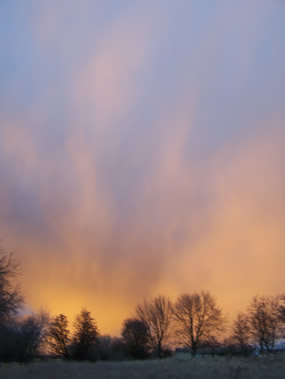 NPS - Renee Rusler
Expose for the sky: Your camera will likely have several different settings for determining proper exposure. The two most common are spot metering (where the camera uses the little square in the center of your field of view to set the exposure) and matrix metering (where the camera uses the entire field of view to set the exposure). You'll want to use spot metering for sunsets since matrix mode will take the dark, shadowy foreground into consideration and your pictures will end up being overexposed. With digital photography, it's always better to underexpose than overexpose since this is a much easier problem to correcting in an image-editing program later.
Spice up the foreground: That being said, don't ignore the foreground since an interesting one is often what makes a good sunset picture great. Compose your shot with something in the foreground that will look interesting even though it won't be directly illuminated by the sun. Silhouettes are always a good option since you'll generally be looking towards the sun when shooting sunsets.
Keep it steady: If you're shooting late enough in the evening, your exposures will be long enough that you'll probably want a tripod to keep your images sharp. While many inexpensive cameras nowadays have an image stabilization feature that allows you to take longer exposures without the use of a tripod, if you plan on taking lots of shots, it's probably safer to use a tripod if you have one since it is impossible to tell just by looking at a tiny LCD screen whether your images are truly sharp or not. There's nothing worse than looking at your images later only to find out that all of your images that looked perfectly sharp on your camera's screen are ever so slightly blurry.