Blog Entry: October 19, 2010
Zach Schierl
Greetings and welcome to the Whitman Mission National Historic Site photo blog! My name is Zach and I am a volunteer here at Whitman Mission as well as an avid photographer so I'm very excited to be writing the first post for our new blog.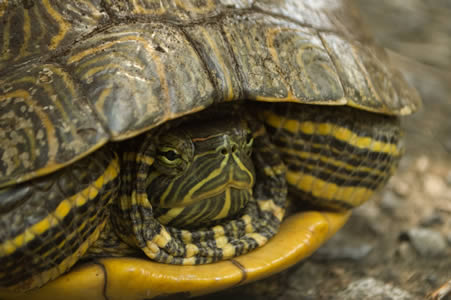 Zach Schierl
Sometimes, the best photos come about rather serendipitously. Case in point is the close-up of the painted turtle at right. While normally somewhat difficult to photograph since they prefer to hang out on a number of floating boards in the millpond built by Dr. Marcus Whitman in 1844, occasionally a bold, adventurous turtle will venture far from its aquatic home and roam the park paths and sidewalks. I managed to capture this one earlier this summer on the path leading up to the Whitman memorial shaft. I was rather absentmindedly reviewing some photos I had just taken on my camera when I fortunately (for me, but more so for the turtle) happened to glance up just in time to avoid stepping on the little guy by just a few inches. He remained motionless for about five minutes allowing me to get several good shots before speeding off to conceal himself in the undergrowth along the sidewalk.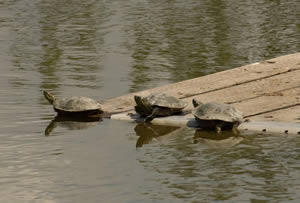 Zach Schierl
Perhaps the most loved of the park's five different reptile species, the painted turtle is one of the most common species of turtle in North America. Their color and patterning varies by locale. Here at Whitman Mission they have a beautiful, vibrant green and yellow pattern that makes them quite distinctive even from a distance. They primarily keep to themselves in the millpond, but they can occasionally be found wandering the dry sidewalks and paths around the park as well. If you want to get a picture of them out in the pond, approach quietly. Just this afternoon I managed to startle three of them enough, even from 50 yards away, that they slid back underwater before I had a chance to press the shutter. Come check them out soon though, as we head into the colder winter months the turtles will be spending less and less time sunning themselves on the boards in the millpond and more and more time in their (relatively) warm mud burrows at the bottom of the pond.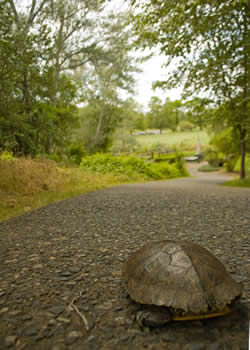 That's it for today, but I'm planning to post new entries about once a week highlighting things like the history, biology, and culture of Whitman Mission, along with lots of pictures and more photography tips. I'll also keep you up to date on exciting projects at the park such as the Doan Creek Restoration and our ongoing efforts to make the park as environmentally sustainable as possible.
---
Want to learn more about exploring Whitman Mission with your camera? Click here for more blog entries from the Photographer's Eye.