Gray and Cloudy? Not to Fear!
by Zach Schierl
Originally posted as a blog entry on November 27, 2011
It's been a while since we've talked about photography tips here on "The Photographer's Eye," so today we are going to talk about how to take great pictures in even the cloudiest, coldest, dreariest weather conditions. Why? Because today just happened to be one of those days here at Whitman Mission. This is the scene that greeted me when I arrived today (November 19, 2011):

NPS - Zach Schierl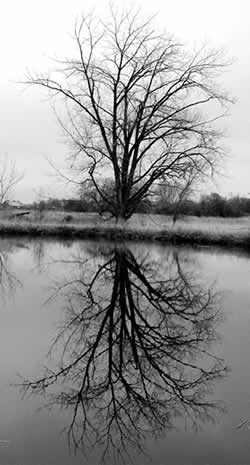 NPS - Zach Schierl
While days like this might make you tempted to just leave your camera in the bag, instead look at them as a great way to challenge your photography skills. Anyone can walk up to Yosemite Valley or the Grand Canyon on a nice sunny day and take a good picture; not everyone can do the same on a grey, overcast day. Some of the most spectacular and most creative photos I've ever seen were taken on days just like this. As a photographer you just have to think a little bit differently in order to get good results.
Black and white (B&W) photography can be a very effective technique on dreary days. If you don't have direct sunlight illuminating your subject, colors become less striking and more muted. So why not get rid of them altogether? Converting a photograph to black and white makes your eye focus on shapes, patterns, and the contrast between light and dark elements. The hardest part of B&W photography is visualizing how the shot will look without the color seen in your viewfinder. Something that often helps me with this is trying to imagine how the scene would look in a newspaper. We did an entire blog entry on B&W photography last year, so for more tips, go to http://www.nps.gov/whmi/photosmultimedia/black-and-white.htm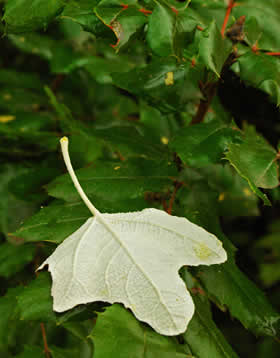 NPS - Zach Schierl
Another option that I often turn to on overcast days is macro, or close-up, photography. While landscapes can often look rather drab without sunlight, zooming in on your surroundings and focusing on the little things, like plants, water droplets, or patterns in tree trunks, is much less dependent on weather conditions. In addition, using a brief burst of flash when up-close to your subject can eliminate shadows and ensure that your entire photograph is illuminated evenly.
If all else fails, a little post-processing can often dramatically improve a picture taken in less than ideal lighting conditions. While I'm not a fan of dramatically altering pictures using Photoshop or other such programs, a lot of times all a picture needs is a slight contrast increase or brightness adjustment to really make it pop, so don't be afraid to do a little editing once you return indoors from a photo shoot in the grey and gloom. More complex editing can also produce interesting effects like this picture of hawthorn berries against the gray eastern Washington sky.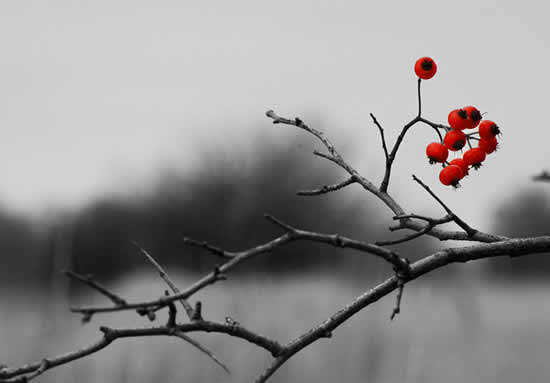 NPS - Zach Schierl
The most important thing to remember is that the composition of your photo is going to become very important when snapping shots. Under such conditions you are unlikely to get anything worth keeping by simply walking outside and pressing a button. Don't be afraid to experiment with unusual and creative angles. Ultimately, photographs taken in dreary weather don't have to be dreary themselves. A little extra creativity and thought can give you good pictures in even the most challenging conditions.
---
Want to learn more about exploring Whitman Mission with your camera? Click here for
more blog entries
from the
Photographer's Eye
.