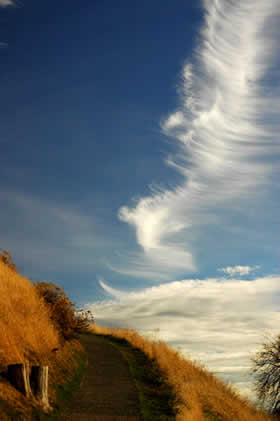 Zach Schierl
Polarizers utilize the same properties as polarizing sunglasses to cut down on reflections and glare. In doing this, the contrast of your shot will increase, and colors will become brighter and more vibrant. For cloud photography these are both good things, as it means that your sky will be bluer and your clouds will be whiter, which can ultimately lead to a better image. [Note: polarizers for smaller point-and-shoot type cameras without lens threads can be difficult, if not impossible, to find. Your best bet is to buy a polarizer designed to screw into the lens of a DSLR and simply hold it up against your lens while taking a shot. It may sound like a jury-rig out of MacGyver, but trust me it really works wonders!
Another thing you'll want to keep an eye on when shooting clouds is your exposure time. Including large amounts of sky in your shot tends to throw off the exposure meter of the camera, which can lead to overexposed images. It's normally best to decrease your exposure time by a few stops in order to compensate for this. This is something that is easy to do regardless of what type of camera you might have: look for a P, M, or PASM setting, or check your camera's manual for instructions. It'll be worth it. Few things are as frustrating as downloading your images only to find that all of the delicate cloud formations are completely washed out!
Winter time in the northern U.S. is more likely to produce the high, wispy cirrus and altocumulus clouds like you see in these two pictures. While in the summer, unstable warm air tends to produce puffy, white cumulus clouds, and towering, thunderstorm-producing cumulonimbus clouds. So, your opportunities for cloud photography will change throughout the year. For now, keep your eye on the skies and may the clouds be with you!