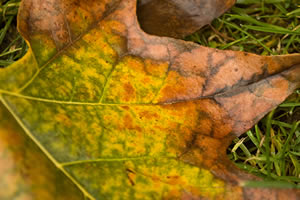 Zach Schierl
Blog Entry: October 26, 2010
Zach Schierl
Fall color season is just starting to hit its stride here at Whitman Mission this week. The maples, cottonwoods, sycamores, and sumac here at the park are all in various stages of losing their green chlorophyll and exposing the stunning yellow, orange, and red pigments that have been hidden beneath throughout the summer. The onset of color has made for some excellent photo opportunities over the past few days and, barring an extreme frost or another strong wind storm like we had on Saturday night, the color show should continue to impress for at least another week or more.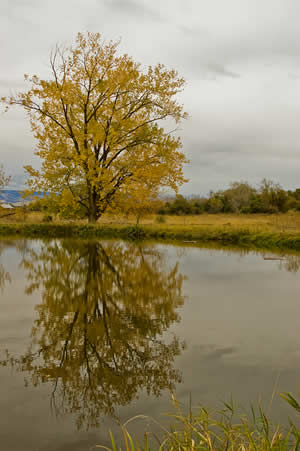 Zach Schierl
On Sunday morning I was able to get a nice shot of one of our golden-yellow Eastern Cottonwoods almost perfectly reflected in the millpond. Despite the intermittent rain and fairly strong winds, the surface of the millpond was oddly still, save for the occasional fish jumping into the air to catch a bite to eat. Nearby, on the western berm of the millpond, I also spotted some fantastic patterns in leaves that had already been blown to the ground by the wind.
Here in the (relatively) warm climate of eastern Washington, peak fall color season is still probably a week or so away in most areas. Areas closer to the Cascades to our west and the Rockies to our east are reaching peak color now, whereas in the higher elevations, color has already faded and the leaves have fallen due to colder evening temperatures. On a personal note, having grown up in a dry, Ponderosa Pine forest with very few deciduous trees, where "fall color" is really nothing more than the drop of millions and millions of dead, brown, crunchy pine needles, I've really enjoyed getting to see the leaf display that Washington has to offer over the past few autumns.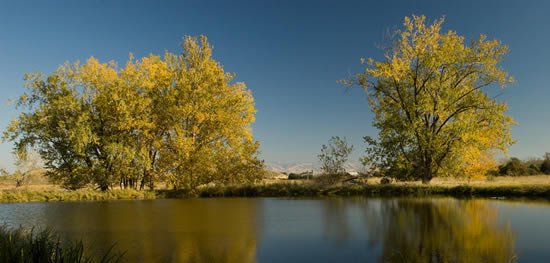 Zach Schierl
Finally, if you would like to learn more about the different species of trees and plants that can be found here at Whitman Mission, check out the park's plant page.
---
Want to learn more about exploring Whitman Mission with your camera? Click here for more blog entries from the Photographer's Eye.