Whitman Mission in Black and White
Blog Entry: November 2, 2010
Zach Schierl
After last week's posting on fall color here at Whitman Mission, now that the leaves are beginning to fall, we're going to do a complete 180 and talk about black and white photography. Let's be honest, color is awesome. We all enjoy color given that we as humans are inherently visual creatures. But sometimes, less is better when it comes to photography.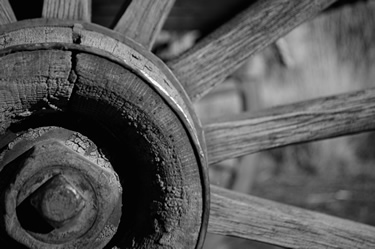 Zach Schierl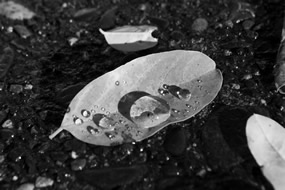 Zach Schierl
More than anything else, black and white photography emphasizes patterns and texture. Things like the intricate pattern of decaying tree rings in a fence post or the Sun's tiny reflection in a droplet of dew are subtle details that are too easily overlooked when your eye is distracted by bright colors. Going the black and white route brings these features back into prominence in your photograph. Now, instead of colors grabbing all of the attention, your eye will be naturally more drawn to the content of your photo, leading you to spot things you would otherwise miss.
While film cameras are becoming increasingly rare these days, even the most basic digital cameras generally have a setting allowing you to shoot in black and white. That being said, you should almost NEVER use this feature. When you shoot in "black & white" mode, what your camera is actually doing is taking a color picture and then using an algorithm in the software to remove the color. Even the most basic image editing programs nowadays will allow you to convert images to black and white once you've downloaded them to your computer and these programs will do a much better job of it than your camera. Using this method to convert digital images to black and white gives you more flexibility and control over your final image whereas if you shoot the image in black and white to begin with, you're never going to get that color back if you decide you want it. Shoot first, ask questions later.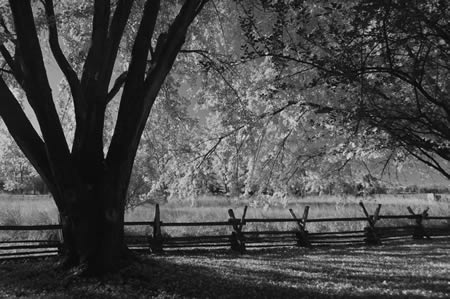 It's a good idea to try and visualize in your head what your shot would look like sans color. After enough practice, you'll find that your mindset is completely different when taking pictures that are, or eventually will be, in black and white.
---
Want to learn more about exploring Whitman Mission with your camera? Click here for more blog entries from the Photographer's Eye.