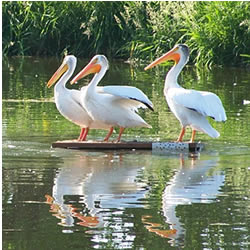 NPS - Diana Elder
A small flock of American White Pelicans flew over the Visitor Center yesterday. I ran for my camera, but unfortunately, by the time I returned, they had flown off to the west and were lost against the gray, overcast sky. But don't despair. For the past few years, American White Pelicans have been seen fairly regularly during spring and fall migration. Often they are seen flying overhead, but occasionally they are also seen floating in park's Mill Pond. Or, as in the photo to the left, which was taken in 2007, standing on one of the floating boards usually used by the resident turtles. So, look up. You may spy some of these majestic birds.
This morning, a little before 8 am, I glanced out the window and saw a coyote running across the grounds. If you live near the park, like I do, you probably have heard them at night. But I don't usually see them. Again, the camera was not where I was. The coyote didn't pause. I stayed at the windown and enjoyed the moment. I have a wonderful memory, but no photo.
Spring is here. Animals are out and about. Keep your eyes open and your camera handy.