Nature Sightings: Sept. - Dec. 2011
---
2012 Preview:
January 25, 2012 - Renee Rusler - Is Two Too Many?
Visitors spotted these two otters cavorting in the park's pond. Otters are occasionally seen at the park and are always fun to watch. These two alternated between swimming and getting onto one of the park's floating boards. But the board would start to sink when they both got on.

NPS - Renee Rusler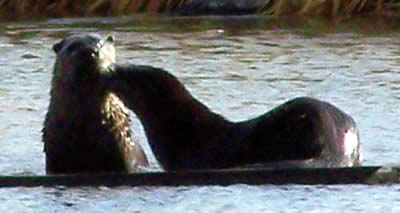 NPS - Renee Rusler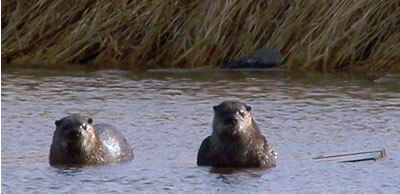 NPS - Renee Rusler
---
December 12, 2011 - Renee Rusler & Zach Schierl - Snack Time!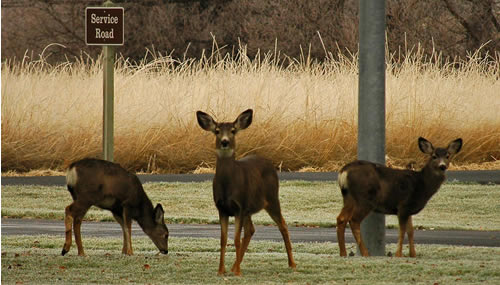 NPS - Zach Schierl
Two species of deer can be found at Whitman Mission: Mule Deer and White-tailed Deer. The deer are most commonly seen in the early morning or evening, periods of low light when it is harder to be seen. Cloudy days are another time when light levels are low. Yesterday it was so cloudy and quiet at the park that these Mule Deer ventured into the parking oval during the middle of the day.
Some people mistake Mule Deer for White-taileds because Mule Deer have a white rump and tail. But the White-tailed Deer is named for the fluffy, white underside of its longer tail, which it raises and wags like a flag when startled.
---
December 4, 2011 - Renee Rusler - Signs of Winter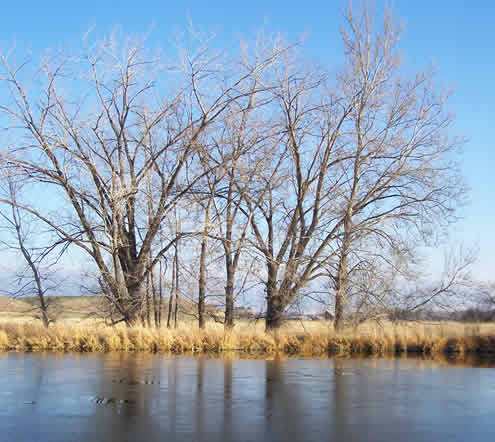 NPS - Renee Rusler
---
November 28, 2011 - Renee Rusler - A Belted Kingfisher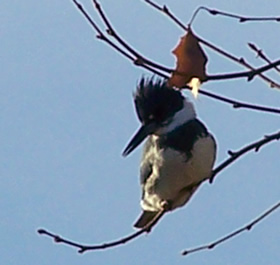 NPS - Renee Rusler
Belted Kingfishers live in and around the park. Look for them on branches above streams and ponds. This male Kingfisher was sitting above the park's Mill Pond.
Belted Kingfishers are fairly distinctive: bluish back and breast band, a rough crest on the top of the head, and a large, heavy beak. Females have an additional rust colored belly band (which this bird doesn't have).
Kingfishers dive head first into water to catch fish and other aquatic animals. They regurgitate indigestible parts, such as fish bones.
---
November 13, 2011 - Zach Schierl - Turkey Day is on the Way!

NPS - Zach Schierl
---
November 6. 2011 - Renee Rusler - Buffleheads

NPS - Renee Rusler
---
October 18, 2011 - Renee Rusler - Keep Your Eyes Open for Wintering Red-tailed Hawks

NPS - Renee Rusler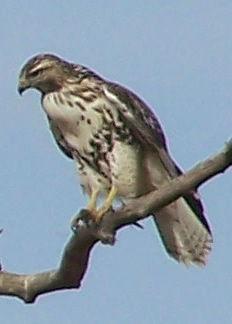 NPS - Renee RUsler
As I was walking through the park last Tuesday, I glanced up and saw a Red-tailed Hawk perched on a dead snap, perhaps scanning the area for its next meal.
Red-tailed Hawks are one of the most common hawks in North America. They eat small mammals and live in a variety of habitats. They are often seen perched atop telephone poles or soaring overhead.
This area is an excellent place to look for Red-tailed Hawks, especially in the fall and winter. The Walla Walla Valley is an important raptor wintering area and hosts thousands of migratory Red-tailed Hawks each year. One example is a black variety ("morph") that arrives in the late fall from their breeding areas in northern British Columbia and central Alaska. (Red-tailed Hawks come in several color combinations called "morphs").
So keep an eye open for these winter visitors.
Expert birder, Mike Denny, provided information on changes in the local Red-tail Hawk population during the fall and winter.
Another source of information about when and where to look for different bird species in the Walla Walla Valley and surrounding area is Blue Mountain Audubon (www.blumtn.org/).
---
October 17, 2011 - Zach Schierl - First Blazing Colors of Fall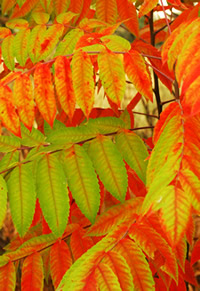 NPS - Zach Schierl
While most of the trees at Whitman Mission are still looking green, these sumacs near the millpond are ahead of the game and are already displaying vibrant shades of red, orange, and yellow.
---
September 12, 2011 - Renee Rusler - It's not a moose, but...
It's still way cool!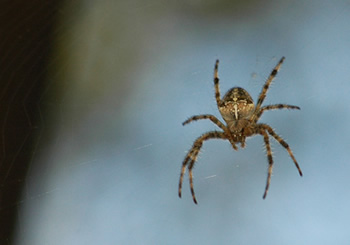 NPS - Zach Schierl
Park volunteer Zach Schierl took this photo while working on a new blog entry about renewable energy at the park.
In addition to being cool, I see this photo as a reminder to not get so focused on the task at hand that we forget to see what is around us.
Zach has just returned from a summer filled with adventures.
Welcome back Zach!