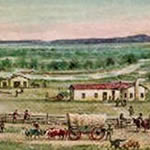 NPS collection
Historic Landscape
It is probable that at the time the mission was established, a mixture of three plant communities occupied the site: a narrow plant community consisting of dense tangled thickets of willows, cottonwoods, wild dogwoods, blackberries, elderberries, and other species common to riparian areas probably occurred in the floodplains along the Walla Walla River and nearby Mill Creek; an association of perennial grasses, shrubs, and native forbs occurred on the hillsides where soil depths and drainage were greater; perennial grasses common to the Palouse dominated the rest of the mission site.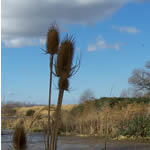 NPS collection
Exotics
In 1997, an inventory of exotic pest plant species identified the following six species of concern: field bindweed (Convolvulus arvensis), jointed goatgrass (Aegilops cylindrica), poison hemlock, (Conium maculatum), yellow starthistle (Centaurea solstitalis), Canada thistle (Cirsium arvense), and Scotch thistle (Onopordum acanthium). Teasel, shown in the picture, is another exotic. Teasel is an Old World plant whose spiky, dried flower heads were used to comb wool before spinning.
---
Sources:
Whitman Mission National Historic Site: General Management Plan, September 2000. U.S. Department of the Interior, National Park Service.
Marcus and Narcissa Whitman and the Opening of Old Oregon. Clifford M. Drury.1986. Northwest Interpretive Association, Seattle, Washington.