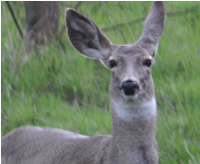 NPS
Mammals
The most abundant species are deer mice and montane voles. Other common mammals include pocket gophers, whitetail deer, mule deer,and Columbian ground squirrels. Seen occasionally are beavers, mink, river otters, muskrats, raccoons, weasels, skunks, badgers, porcupines, and coyotes.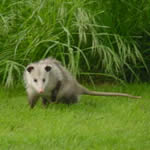 NPS
New and Introduced Mammals
Whitman Mission supports several introduced species of mammals. The Virginia opossum, eastern cottontail, and eastern gray squirrel all occur at the site.The eastern gray squirrel has only recently become established here. Staff first reported seeing it at the site in 2002. It apparently spread west from the city of Walla Walla, where it has been established for many years.
Unexpected Mammals
The last few years have seen more and more sightings of Moose in the Walla Walla area. Moose have occasionally been spotted at Whitman Mission.

NPS - Renee Rusler
---
Sources
2002-2003 Vertebrate Inventory: Whitman Mission National Historic Site. University of Idaho and National Park Service Columbia Cascades Support Office.
Whitman Mission National Historic Site: General Management Plan, September 2000. U.S. Department of the Interior, National Park Service.