The Cayuse Indians inhabited the area around Whitman Mission prior to the 1850s. They practiced very little crop agriculture, depending instead on a partially nomadic existence which emphasized food gathering, horse raising, and salmon fisheries. Fire was used periodically by the Cayuse to burn particular areas to increase the production of wild forage and accessibility of plant foods, to facilitate hunting and travel by burning away underbrush, and to encircle game. The regularity with which the areas on, or near, the historic site were burned historically cannot be determined, but frequent cultural burning of any particular area was probably rare.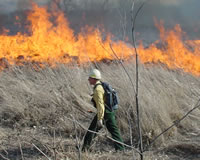 NPS collection
Today the park staff, with help from the Umatilla National Forest personnel, conduct prescribed burns almost every spring to maintain the role of fire in the ecosystem. Between 10 and 20 acres are burned each year, and most areas of the park are burned every 3 to 5 years. The purpose of the burns is to promote the health and vigor of the grasses and to reduce the spread of non-native weeds. By burning in the late fall or early spring, the fire consumes previous years dead, dried grass stems and leaves, but does not damage the grass plants' roots. Prescribed burning activities usually last only a few days a year. Any unplanned fires, whether caused by lightning or humans, are put out as quickly as possible to protect the park's resources and to prevent damage to neighboring private lands.
---
Source:
Whitman Mission National Historic Site: General Management Plan. September 2000. U.S. Department of the Interior, National Park Service.