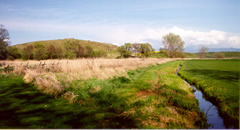 NPS collection
Whitman Mission National Historic Site is located in the Walla Walla Basin. The bedrock of the Walla Walla Basin is composed of layered flows of Columbia River Basalt of the Miocene and Pliocene ages and is over 3,000 feet thick. The uppermost layer of basalt at Whitman Mission is approximately 524 feet below the surface. Above this are layers of clay and gravel, probably of Pleistocene age. Overlying the old gravel is a mantle of Pleistocene silty and clayey loess know as the Palouse Formation.
The soils at Whitman Mission vary and include gravel, organic soil, silt loam, loess, hard pan, and clay. The water table ranges from one to four feet deep through most of the lower elevations of the site.
Elevation within the park is essentially level except for one hill that rises over 100 feet above the surrounding area. Elevations range from 615 feet above sea level to 724 feet at the top of the hill.
Generally, wind conditions maintain clear visibility in the area. Notable exceptions to clear visibility occur in the spring and fall during agricultural operations. There is dust from plowing and planting, and smoke from the burning of agricultural fields.
---
This material was excerpted from: Whitman Mission General Management Plan, September 2000.