Whitman Mission Wins Top Honors in 3 Categories from EPA for Being Green
In October 2006, the staff at Whitman Mission received three certificates of recognition from the US Environmental Protection Agency's (EPA) "Champions of Environmental Leadership and Green Government Innovation Recognition Program." According to EPA coordinator Barbara McCullough, Whitman Mission is the first site to receive the top acknowledgement in three separate areas in a single year. The EPA program recognizes the efforts of federal employees, groups, or facilities in Alaska, Idaho, Oregon, and Washington that "are showing leadership by going above and beyond the call of duty in working to improve the environment and protecting our natural resources."
The EPA certificates acknowledge special accomplishments in the areas of renewable energy, environmental leadership and innovation, and alternative fuel use. Efforts in these areas also resulted in Whitman Mission being one of the four finalists for the 2006 national Achievement Award for Real Property Innovation. This contest, sponsored by the GSA (US General Services Administration), focuses on "demonstrating innovation, creativity, and leading practice in Federal real property asset management and sustainability." Thinking globally and acting locally has become a way of doing business at Whitman Mission National Historic Site.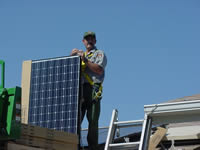 NPS photo
In October of 2005, Whitman Mission installed a grid-tied photovoltaic power plant on the park maintenance building. The 60 panel system has the potential to generate 17,975 kilowatt hours of renewable energy annually. It has already reduced the park's dependency on the grid by 30%, resulting in a reduction of 3.07 metric tons of carbon emissions being released into the environment. Cooperation between park staff, Pacific Power and Light and the Bonneville Power Administration allowed the system to become a reality. This project became the first solar generated, grid tied, system between a major public utility and a National Park Service site within the state of Washington.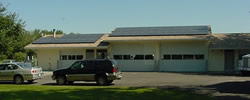 NPS photo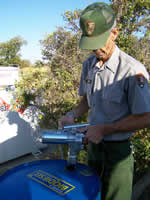 NPS photo
Whitman Mission initiated a pilot project to study the effects of converting from using pure diesel to using a B20 blend (20% bio fuel such as soybean oil, 80% diesel). While B5 biodiesel blends (5% bio fuel such as soybean oil, 95% diesel) have been used for heating in other parts of the country and experimentation with B20 blends have taken place, little information was available on actual experiences using the B20 blend. The pilot project started with just heating the maintenance building, but within a year's time B20 was being used for all diesel applications. The use of biodiesel reduces harmful emissions such as carbon dioxide, a gas linked to global warming. Whitman Mission's use of B20 biodiesel has reduced carbon dioxide emissions by 16%, nitrogen oxide and sulfur dioxide by 20%, and particulate matter, hydrocarbons and carbon monoxide by 20 to 40%. It is also cost effective. Using biodiesel has reduced the park's annual fuel costs by 10%. Tom Osborn of Bonneville Power said "the staff at Whitman Mission don't just preach conservation, they do it".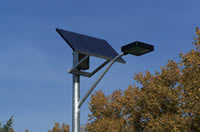 NPS photo
The entire staff of Whitman Mission was honored with distinction for Environmental Leadership and Innovation. Staff at all levels participate by suggesting ideas and participating in implementation. They take a holistic approach to managing and operating the park so as to reduce the impacts on the environment. Activities include: a strong recycling and composting program (90.5 % of the parks solid waste is composted or diverted); using "green" cleaning products; using recycled building materials (100% recycled plastic lumber for benches, signs, and bridge curbing, and installing recycled carpet); using alternative energy such as solar and biodiesel; reducing water consumption; and continuing to experiment with new ideas and products.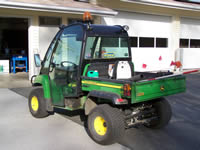 NPS photo
According to the park's Chief of Maintenance, Bruce Hancock, "Whitman Mission has attuned its own ecological and organizational attitudes to sound environmental principles and practices to help preserve and conserve the resources of the planet. In doing so, we have demonstrated to other individuals and organizations that when the right technologies are applied in a holistic approach significant savings can be achieved."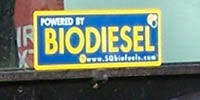 NPS photo