A Tradition of Renewable Energy
This article first appeared as a blog entry by Zach Schierl and Renee Rusler, October 4, 2011.
October is National Energy Awareness Month. Energy awareness, energy conservation, and energy production is an ongoing effort at Whitman Mission National Historic Site and were important issues at the mission during the Whitmans' time.

NPS - Renee Rusler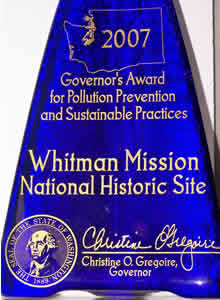 NPS - Renee RUsler
Whitman Mission National Historic Site has won numerous awards for its efforts to reduce its environmental footprint, in part through the use of renewable forms of energy. This may sound new and exciting, but it is actually part of a continuing legacy. The Whitmans and Cayuse were using renewable forms of energy long before it was "hip" to be green.
In the simplest terms, renewable energy is any form of energy that we either have an infinite (or near infinite) supply of, or one that is naturally replenished on short time scales. Solar and wind power are considered renewable energy because we will never run out of them (at least not for another 5 billion years in the case of the Sun!). Burning biomass (things like wood, etc.) for energy is also considered a form of renewable energy since trees can be replenished on human time scales. Conversely, while coal and other fossil fuels do replenish themselves eventually, the formation of these resources takes tens of millions of years and is thus not considered a renewable form of energy.
Finding ways to take advantage of underutilized forms of renewable energy has been the rage for the past few decades. Wind generated power is becoming increasingly prevelant in this area. Standing on the hill beside the Whitman Memorial shaft, one can see several hundred wind turbines lining the hills southwest of the park. According to the operator of the turbines this array of turbines generates enough electricity to power over 90,000 homes in the Walla Walla Valley.

NPS - Zach Schierl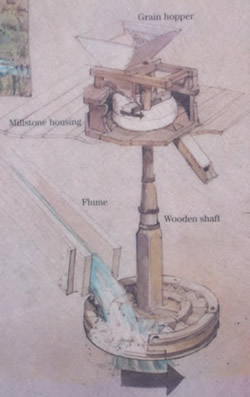 NPS - Renee Rusler
"Renewable energy" may not have been the buzzword in Whitman's time that it is today, nevertheless that's exactly what the Whitmans were taking advantage of when they constructed a millpond (which still exists today) to provide power to their gristmill. Using ditches, water was diverted from the nearby Walla Walla River into the pond. Water left the pond via flume (see diagram). The energy of the downward flowing water was then used to turn grinding stones that produced flour for the ever increasing number of inhabitants and visitors at the Whitmans' mission.
Over the years, the Whitmans had three successive gristmills. Harnesing the power of water, and thus making life a little easier, was very important to Dr. Whitman. Despite initial disapproval from the American Board (the group that finacially supported the mission), Dr. Whitman put together a system that used 4- to 5-inch iron burrs and operated similarly to a coffee mill. A visitor in 1839 commented that it was a "crazy thing, but for it the doctor was grateful." Eventually the Board relented and helped the Whitmans acquire 24-inch millstones. Dr. Whitman wrote of the second gristmill: "The mill is a most valuable acquisition to this station. Its simple construction, & its safe & durable water power makes it a great labour saving machine." In 1844, the Whitmans hired a man to make them even larger grinding stones, which measured 40 inches in diameter. The Whitmans were working on a fourth gristmill when the mission was attacked in 1847.

NPS - Renee Rusler

NPS - Zach Schierl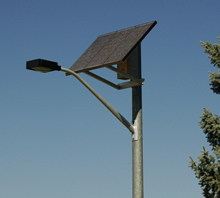 NPS - Zach Schierl
Today it is the sun, rather than water, which is the renewable energy star at Whitman Mission. The park generates about 32% of the electricity used from solar panels. The park first experimented using solar panels to power building security lights and parking lot lights. Then in 2005, the park installed 60 solar panels on the roof of the park's maintenance building. These panels have the potential to generate 17,975 kilowatt hours each year. They worked so well that a second set of 18 panels was installed on the roof of the Visitor Center in 2008.
Renewable energy continues to take center stage at Whitman Mission. Read about other ways the park is working to minimize its environmental impact.

NPS

NPS - Renee Rusler