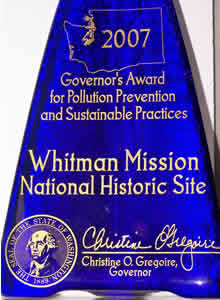 NPS - Renee RUsler
Whitman Mission National Historic Site has won numerous awards for its efforts to reduce its environmental footprint, in part through the use of renewable forms of energy. This may sound new and exciting, but it is actually part of a continuing legacy. The Whitmans and Cayuse were using renewable forms of energy long before it was "hip" to be green.
In the simplest terms, renewable energy is any form of energy that we either have an infinite (or near infinite) supply of, or one that is naturally replenished on short time scales. Solar and wind power are considered renewable energy because we will never run out of them (at least not for another 5 billion years in the case of the Sun!). Burning biomass (things like wood, etc.) for energy is also considered a form of renewable energy since trees can be replenished on human time scales. Conversely, while coal and other fossil fuels do replenish themselves eventually, the formation of these resources takes tens of millions of years and is thus not considered a renewable form of energy.
Finding ways to take advantage of underutilized forms of renewable energy has been the rage for the past few decades. Wind generated power is becoming increasingly prevelant in this area. Standing on the hill beside the Whitman Memorial shaft, one can see several hundred wind turbines lining the hills southwest of the park. According to the operator of the turbines this array of turbines generates enough electricity to power over 90,000 homes in the Walla Walla Valley.