Materials Needed
1 milk container
4 one-foot lengths of florist wire
stapler
scissors
one 1 x 1.5 foot piece of white muslin
corrugated cardboard
masking tape
4 quarter-inch dowel sticks (2 five-inches long and 2 six-inches long)
needle and white thread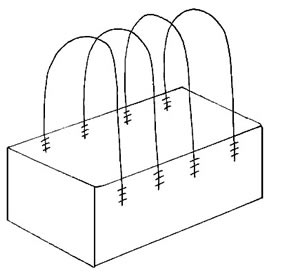 WAGON BOX
Cut off pouring end and one side of milk container, and lay box on its side, open side up.
Bend four pieces of wire into "U" shapes and staple to open sides as shown.
Place the two 6" dowels so that they are 2" apart and protrude 5" beyond the open end of the container. Tape them in place.
COVER
Lay the cloth over the wires. Sew around the wires and through the cloth so that the wires are held in place by the stitches (small stitches work best). As you go from one wire to the next, leave a bit of slack in the cloth so that it droops slightly between the wires. (Cloth can also be glued to wires.) Let ends of pieces hang as curtains in front and rear.
WHEELS and AXLES
Cut four wheels measuring 4" in diameter from the piece of corrugated cardboard.
Punch a hole 1/4" in diameter through the center of each wheel.
Paint or crayon the spokes and rim for each wheel.
Push dowels through 1/4" holes to make two sets of wheels.
Tape the center of the dowels to the bottom of the wagon.
Place one set of wheels 1 1/2" from the front and the other 1 1/2: from the rear.
Tape a piece of cardboard on front of the carton to close up part of front. Add a strip of cardboard for the seat.
Cover wagon box with brown construction paper or woodgrain, adhesive-backed vinyl.
---
From Whitman Mission Teacher's Guide, 2004.