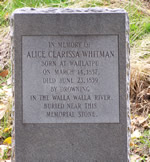 NPS Photo
Graves and Memorials
The Whitmans have been memorialized in many ways. The park grounds include the Great Grave, a marker for Alice Clarissa, and a monument to the Whitmans. The grave sites of Dr. Whitman's parents can be found in western New York. There is Whitman College. There are statues. Historian Clifford Drury compiled a list of some other memorials (see Marcus and Narcissa Whitman and the Opening of Old Oregon).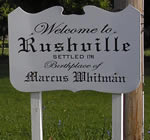 Courtesy Michael McKenzie, Ph.D.
Rushville, New York
On September 5, 1802, Marcus Whitman was born in Federal Hollow in western New York. The settlement's name was changed to Rushville in 1818. In September 2007, Dr. Michael McKenzie, Associate Professor of Philosophy and Religion at Keuka College, visited Marcus's birthplace. He reflects on Rushville then and now. more . . .