A Physical Description of Narcissa Prentiss Whitman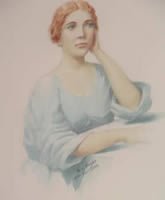 NPS collection
With the possible exception of an untitled sketch by artist Paul Kane, there are no known images of Narcissa herself. She was, though, described by many contemporaries. Artists have used descriptions to help create paintings of Narcissa. Artist Drury Haight created a painting of Narcissa based on the Paul Kane sketch. A discussion of the discovery of the Paul Kane sketch and the evidence supporting the theory that it is of Narcissa Whitman can be found in "Are These the Whitmans?" by Ross Woodbridge.
The following descriptions of Narcissa Whitman are excerpted from Clifford Drury's Marcus and Narcissa Whitman and the Opening of Old Oregon.
Joel Wakeman described Narcissa as follows: "She was of medium height, symmetrically formed, very graceful in her deportment and general carriage, slightly sandy complexion, a brilliant, sparkling eye, perculiarly so when engaged in animated conversation. She was not a beauty, and yet, when engaged in singing or conversation there was something in her appearance very attractive." Levi Waldo, also drawing upon personal recollections, wrote: "She was a beautiful blonde, of fair form and well rounded features, dignified and stately, yet modest in her bearing, kindly and Christian in social life, honoring and gracing every station that she was called to fill." In another account she was described as being "of slight build, a little above medium height, blue eyes, pretty, with beautiful blonde hair." Others referred to her hair as being a golden or light colored auburn. Narcissa weighed herself a few weeks after her marriage and in a letter to her sister Jane said that the scales registered 136 pounds. Writing to her parents on October 9, 1844, Narcissa stated that she then weighed 167 pounds, "much higher than ever before in my life."
---
Sources
Drury, Clifford M. Marcus and Narcissa Whitman and the Opening of Old Oregon. 1994. Northwest Interpretive Association: Seattle, Washington.
Woodbridge, Ross. "Are These the Whitmans?" in The Whitman Alumnus: Whitman College Bulletin. 1970 Feb; Volume 73 (Number 5):2-6.