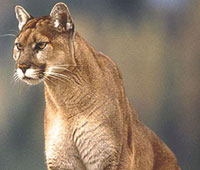 MOUNTAIN LION COUNTRY
Few people ever see these elusive animals in the wild. However, mountain lions have been known to attack people and pets.
When visiting mountain lion territory precautions should be taken:
1. Avoid hiking alone.
2. Don't run, running may stimulate the lion's instinct to chase.
3. Watch children closely, and never let them run ahead of you on the trail.
If you do encounter a mountain lion, try these behaviors to convince the lion you are not prey and may be dangerous yourself:
1. Face the lion and stand upright.
2. Make eye contact.
3. Do not turn your back on the mountain lion. Back away slowly.
4. Pick small children up and place on your shoulders. Spread your arms, open your coat, and try and make yourself appear larger.
5. If the lion behaves aggressively wave your hands, shout and throw sticks or rocks. If attacked, fight back. Do not "play dead."
Report all mountain lion sightings to a park ranger or headquarters at 530-242-3400.