Brandy Creek Road Closed Oct 1 - Oct 2, 2014

Whiskeytown staff is working towards improving Brandy Creek road for better access to popular visited areas. Brandy Creek Road will be closed first thing Wednesday morning Oct 1st and remain closed through the second for graveling.
Painting Exhibit at Whiskeytown Visitor Center
News Release Date:
January 12, 2009
Contact:
Sheila Edridge, (530)396-2353
Original oil paintings by local artists Diana Troxell and Bruce Davidson will be on view at Whiskeytown National Recreation Area's Visitor Center until February 14, 2009.
The imagery in their works depicts scenes of Whiskeytown. Diana has two pieces on display - a Whiskeytown autumn scene, and a second entitled "Summer of Smoke" depicting Whiskeytown ablaze last summer. One of Davidson's pieces is his interpretation of autumn in the park and the second one is titled "Sentinel of the Lake" which shows a ponderosa pine standing guard over Whiskeytown Lake.
Troxell and Davidson are both north state artists. Within their work they both express the importance of "creation of light." "I paint on a white background which reflects light through many layers of transparent paint, so my paintings glow," stated Troxell.
The Whiskeytown Visitor Center is located on the corner of Highway 299 and Kennedy Memorial Drive and is open daily from 10:00 a.m. to 4:00 p.m.
Did You Know?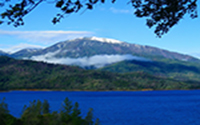 Shasta Bally is the highest point in Whiskeytown at 6199 feet. Snow can usually still be seen through June.