Brandy Creek Road Closed Oct 1 - Oct 2, 2014

Whiskeytown staff is working towards improving Brandy Creek road for better access to popular visited areas. Brandy Creek Road will be closed first thing Wednesday morning Oct 1st and remain closed through the second for graveling.
Whiskeytown National Recreation Area and Shasta State Historic Park Partner for the Annual "Old Time Holiday" Celebration
Date:
November 8, 2011
Contact:
Clinton Kane, (530) 242-3451
The National Park Service and California State Parks are gearing up for their annual "Old Time Holiday" celebration on Saturday, December 3 from 11:00 a.m. to 4:00 p.m. At the Camden House in Whiskeytown's Tower House Historic District, families are invited to make a free wreath to take home for the holidays. The wreath-making workshop will continue through 3:00 p.m. Visitors are welcome to bring their own hand pruners for cutting greenery. Other holiday craft activities will be offered for visitors of all ages, as well as live music and dancing by students from the French Gulch-Whiskeytown School. In addition, visitors can learn the fascinating stories of the families who settled here in 1852 by touring the homestead of Charles Camden and the adjacent historic orchards. Visitors at Whiskeytown's celebration will not be required to display a pass on their vehicles within the Tower House Historic District. In addition, to assist with holiday shopping, Western National Parks Association is providing a special 15% off sale on all books and souvenirs all day at the Whiskeytown Visitor Center.

Shasta State Historic Park will offer free entrance into the Courthouse Museum, shopping at the 1800's general store and cookie decorating in the historic Blumb Bakery. Other activities will feature a '49er miner's tent camp, candle making, and musical entertainment from 12:00 p.m. to 4:00 p.m. Western Star Lodge No. 2, the oldest Masonic Lodge in California, and still active in the town of Shasta, will offer a scrumptious breakfast for a small fee from 7:30 am to 11:00 am.

A printed program describing the scheduled events will be available at both locations. For more information on the Old Time Holiday Celebrations, please call the Whiskeytown Visitor Center daily between 10:00 a.m. and 4:00 p.m. at (530) 246-1225, or Shasta State Historic Park on Friday and Sunday between 10:00 a.m. and 5:00 p.m. at (530) 243-8194. You can also visit Whiskeytown on the park's website at www.nps.gov/whis


-NPS & SSHP-

Did You Know?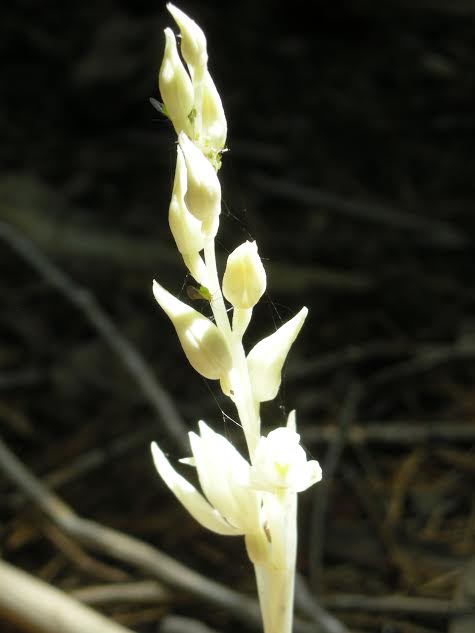 Whiskeytown has phantom orchids (Cephalanthera austiniae)? They are all white and devoid chlorophyll. This means that it cannot make energy for itself and must rely on symbiotic mycorrhizae for its nutrition.