Park Newspaper
Click Here to download the 2014 Whiskeytown Nugget.
The Whiskeytown Nugget is the park's official newspaper and provides visitors with a great resource for planning outdoor recreation opportunities, whether for an hour, or a week. In the 2014 issue you will find essential park information, a park map, trail and camping information, and a complete list of ranger-led programs.



Did You Know?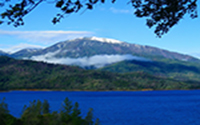 Shasta Bally is the highest point in Whiskeytown at 6199 feet. Snow can usually still be seen through June.