Turtle Bay to Host Ken DeCamp's "Seasons in the Underworld," a Photographic Exploration of Whiskeytown's Beautiful Flora
News Release Date:
February 27, 2010
Contact:
Sheila Edridge, (530) 246-1225
Contact:
Mary Harper, (530) 243-8850
Turtle Bay Exploration Park, in conjunction with Whiskeytown National Recreation Area,  will host a free public presentation of the work of photographer Ken DeCamp on Thursday, March 25 at in the Turtle Bay Visitor Center Theater.  DeCamp's presentation will feature his stunningly beautiful photographic images of wildflowers, mushrooms, and lichens commonly found at Whiskeytown National Recreation Area.  A reception for DeCamp will follow, with refreshments provided by The Friends of Whiskeytown.  The Turtle Bay Visitor Center Theater is located 840 Sundial Bridge Drive, in Redding, and visitors can obtain more information on the program by calling (530) 243-8850.
"We are very pleased to offer visitors this free opportunity to preview the beautiful flora that will spring to life in Whiskeytown's forests during the coming months," stated Superintendent Jim Milestone.  Ken's photographic images of wildflowers, mushrooms, and lichen are as beautiful as they are educational.  He will discuss with the public the names of the plant life, when and where the plants are likely to be found, and answer questions about his experiences.  "We look forward to continuing our collaborative efforts with Turtle Bay to provide educational and inspirational programs for our community," concluded Milestone. 
DeCamp, an avid backpacker, hiker, and trail runner spends the vast majority of his time outdoors with camera in hand capturing the smaller, and often overlooked, plant life of the north state.  Ken states, "Unless you are very attentive and spend your time with your eyeballs and nose to the ground they are very difficult to find."  DeCamp has called the mountains and valleys of Northwestern California his home for over 50 years.  He retired from the U.S. Forest Service in 2006 after 38 years working both in Weaverville and at the Headquarters for the Shasta-Trinity National Forest. 
If you miss Ken's presentation on March 25 at Turtle Bay, his beautiful images of Whiskeytown's wildflowers will be on exhibit at the Whiskeytown Visitor Center from March 21 through May 16.  The Whiskeytown Visitor Center is open daily from to  Keep an eye out for Ken on one of your favorite trails in the future; he will be the guy lying in the dirt photographing some obscure wildflower or slime mold that you didn't even know existed.  He asks that you say hi as you step over him and remember his motto, "Take time to enjoy the little things underfoot because the big picture wouldn't be the same without them."
For more information, call the Whiskeytown Visitor Center at 246-1225, or stop by daily during the hours of   You can view more of Ken's amazing work and his photographic collections of wildflowers, lichens, mushrooms and other fungi, slime molds, trees, waterfalls, and wildlife by visiting his website at http://www.kendecampphotography.com/ 
-NPS-
Did You Know?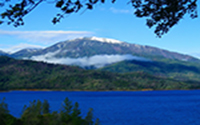 Shasta Bally is the highest point in Whiskeytown at 6199 feet. Snow can usually still be seen through June.