El 4 de Julio en Whiskeytown
Date:
July 2, 2014
Contact:
Chris Mengel, 530-242-3413
El fin de semana del 4 de Julio es uno de los fines de semana más concurridos del año en el Área de Recreación Nacional de Whiskeytown. Las áreas del parque más populares se llenan rápidamente y el espacio para estacionar estará limitado.
Brandy Creek Beach es una de las zonas más populares. La playa tiene salvavidas de las 10:00 de la mañana hasta las 6:00 de la tarde.Durante el fin de semana del 4 de julio, los estacionamientos, las áreas de picnic, y las playas se llenan a las 10:00 ó a las 11:00 de la mañana. Cuando el estacionamiento este lleno, no serán permitido más vehículos, y los vehículos que no caben van a estar detenidos en la presa de Whiskeytown, donde tendrá que darse vuelta. El año pasado, la playa de Brandy Creek se llenó antes de las 11:00 de la mañana y los guardaparques detuvieron cientos de vehículos, todos los que tuvieron que regresarse.
La área de Oak Bottom es otro lugar bonito como Brandy Creek Beach. Allá, hay una pequeña zona de picnic y también una playa para la natación. La playa no tiene salvavidas.
A fin de que tengan un 4 de julio divertido y seguro, los guardaparques de Whiskeytown tienen unos recuerdos para quienes quieran pasar el día en el lago:
·Las mascotas, los fuegos, las bebidas alcohólicas, y fumar están prohibidosen Brandy Creek Beach, Oak Bottom, e East Beach.
·Pueden comprar el pase del día en el Visitor Center o en varios otros lugares del parque. Por favor, ponga el pase del día en la consola de su vehículo, al lado del conductor.
·Por favor, no deje objetos de valor en su vehículo y siempre échele llave.
·Si va a nadar o ir en bote, por favor, use un chaleco salvavidas.
Para más información, visite el Visitor Center, que está abierto a las 9:00 de la mañana hasta las 5:00 de la tarde, todos los días.
Did You Know?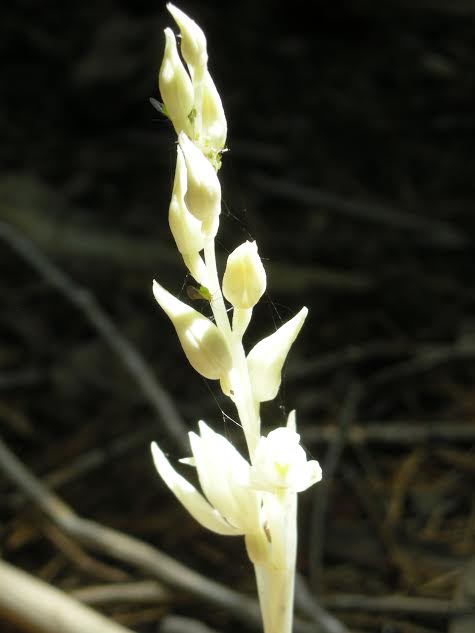 Whiskeytown has phantom orchids (Cephalanthera austiniae)? They are all white and devoid chlorophyll. This means that it cannot make energy for itself and must rely on symbiotic mycorrhizae for its nutrition.