Art Exhibit
Date:
August 20, 2012
Contact:
Sean Denniston
, 530-242-3445
Whiskeytown National Recreation Area park staff invites the public to join them for the unveiling of plein-air paintings by artist Deirdre Shibano on Tuesday August 28, 2012 from 3:00 pm to 5:00 pm at the park Visitor Center. Ms. Shibano, an accomplished plein-air painter and art instructor, will be displaying paintings completed while participating in the artist-in-residence program at Whiskeytown. Light refreshments will be served and the artist will be present to answer questions about her work.
Whiskeytown's Artist-in-Residence Program annually hosts artists in the park for stays up to four weeks to produce new works. Whiskeytown is one of fewer than thirty Artist-in-Residence programs in the national park system.
For more information about Whiskeytown National Recreation Area call the Visitor Center at (530) 246-1225 daily from 10:00 a.m. to 4:00 p.m., or visit the park website at www.nps.gov/whis
-NPS-
Did You Know?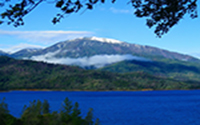 Shasta Bally is the highest point in Whiskeytown at 6199 feet. Snow can usually still be seen through June.