Reptiles
Lizards, snakes, and turtles can be seen throughout the park during Whiskeytown's warm summer months. Seven lizard species, including alligator lizards, fence lizards, and skinks, and thirteen snake species are known to occur in the park. Whiskeytown Lake and its tributaries also provide ideal habitats for the Western pond turtle--a federal species of concern.
Download Whiskeytown's reptile and amphibian list
(pdf, 48K)


Did You Know?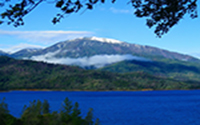 Shasta Bally is the highest point in Whiskeytown at 6199 feet. Snow can usually still be seen through June.