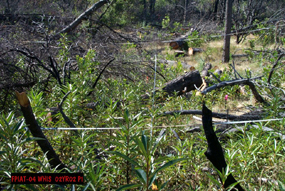 Fire Monitoring Handbook (FMH) Monitoring

An ongoing long-term program has been established for monitoring varied effects of the prescribed fire program at the park. This program was implemented in 1990 and follows the protocols set forth in the
NPS Fire Monitoring Handbook
. Data generated from the established FMH monitoring plots assists managers in understanding effects of prescribed fire treatments in selected vegetation types where prescribed fire is utilized as a management tool.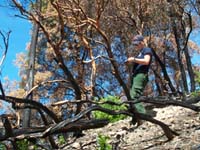 Fire Severity Mapping
Fire severity mapping is a monitoring technique that can be applied to both planned and unplanned fire events, and functions as a landscape level assessment of ecological change. The focus of fire severity mapping is fire effects over relatively large areas. Fire severity mapping can serve as a practical system for estimating fire effects and ecological projections when other methods are unavailable or not practical. The methods employed for fire severity mapping at Whiskeytown follow those outlined on the
FIREMON Landscape Assessment website
.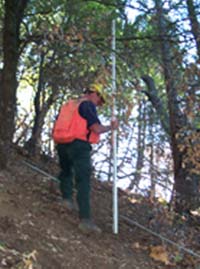 Rapid Assessment Monitoring
Traditional monitoring conducted within the context of FMH provides valuable insight into a range ecological effects resulting from the use of prescribed fire. However, non-fire treatments account for an ever increasing component of the park's fire management activities. With such a range of treatments, traditional FMH plots are frequently deemed inappropriate or very costly tools for monitoring.
To address this potential gap in the monitoring program, the park has developed alternative, rapid assessment monitoring systems that are designed to meet site-specific informational needs. These alternative protocols address only the monitoring variables of most concern and utilize small plot sizes with broader dispersion of plots across the landscape. This system allows managers to assess a greater range of treatment units that would otherwise go unmonitored.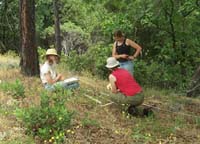 Shaded Fuelbreak Monitoring
The goal of shaded fuelbreak monitoring at Whiskeytown is to determine the effects of shaded fuelbreaks on vegetation, and evaluate what structural characteristics minimize the introduction and spread of non-native plant species. This program monitors fire management activities along the maintained shaded fuelbreaks in the park, allowing for an evaluation of thinning practices and structural characteristics that minimize the spread of exotic species into chaparral, knobcone pine, and oak woodland plant communities. The shaded fuelbreak monitoring system provides information to land managers on how to refine fuels reduction prescriptions in ways that minimize the spread of invasive species.