2013 Youth Conservation Corps Updates

A Day in the Life of a Youth Conservation Corps Member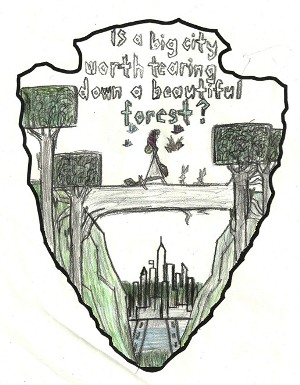 The First Assignment
On my first day with the YCC, I was surprised on what my first assignment was. My first assignment was to draw. I was assigned to draw something symbolizing an environmental message. I thought to myself how much I love the forest and I remembered the scene from my favorite film "Sleeping Beauty", known as Sequence 8 (the forest scene). Right at that moment I drew from my memory the stylistic trees, the forest animals, and Briar Rose (Aurora). In the background, I drew an outline of a big city and highway. I wrote a slogan on top saying "Is building a big city worth tearing down a beautiful forest?" The city and highway are symbols of how so many trees are cut down. I've seen this happen around my grandmother's area where a beautiful forest area with houses was cut down to build a highway that wasn't really needed. Cities get rebuilt all the time but I think it is a big deal that beautiful sights are cut down. It's done for people because we need places to live, but the animals don't have anywhere to live. This explains all of the road kill that we see on the streets. We are all aware of this and we all understand that trees and animals can have emotions. It would be better if less nature was cut down and destroyed. A city is a city.
- Wallace Phillips
It was the second day into the program when Monamma gave us the hardest thing we ever had to do. We had to draw anything that we thought should be a national park. Meaning we had to draw our own National Park Logo for our National Park. It was devastatingly hard and was almost impossible to complete. Every time we were in desperate need for a color pencil, we would open the box to find the one color that would save our master pieces, either missing or broken. We struggled for so long to use the one magnificent color only to have our hopes dashed away from us. But by the end of the twenty minutes, that Monamma gave us, we finally made it out of the battle of art with our own Park Logos. My logo consisted of different things I remembered from the Laogai, which is China's prison system, museum in Dupont Circle, Washington DC. Some things I remembered about the Laogai Museum is a photo of Mao being held upside down to show disrespect and wall full of photos of people who were put into jail or were killed because they did something that the Chinese government disapproved of. I believe that the Laogai Museum should be part of the National Park Service because it makes you re-evaluate the things you do and buy, and it represents part of China's culture. I also hope some time before this summer ends we get to go to the Laogai Museum.
- Rose Badesch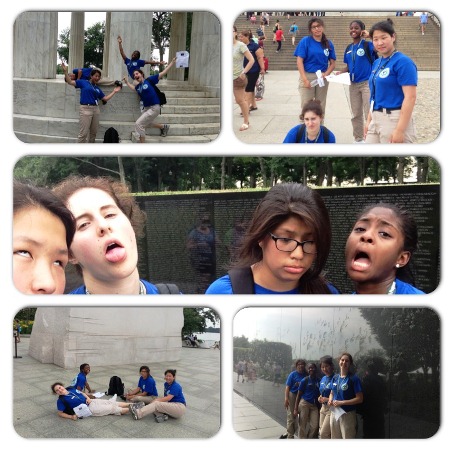 The Scavenger Hunt
The YCC got to be guinea pigs for a scavenger hunt that was going to be given to teachers during their teacher workshop. I'm glad we were the ones to do a test run because by the end of the test run we ended up having some comments and questions. For example, Andrew, with help from Elijah, argued with Monamma about how the wording of two questions were confusing. A week later, we joined the teachers from the teachers workshop on the new and improved scavenger hunt, but we made it a little bit more interesting. All of the YCCs split up into 2 groups. boys versus girl, and the challenge was made. The new scavenger hunt included the Lincoln Memorial, the Korean War Memorial, the Vietnam Memorial, the DC War Memorial, the Martin Luther King Jr. Memorial, the World War II Memorial; we had to go to all six memorials within two and a half hours. To be quite truthful, if you look at our photo of us, girls, at the Vietnam Memorial you would be able to tell we were SO exhausted by that time because it was so hot. My favorite sentence that Stephanie said that day would have to be "I'm out of water. That means game over". In the end when we tallied the points, and one team got 120+ points while the other team got approximately 100 points. It took several days for Monamma to get the winners' prize, and the day of the camping trip Monamma got us girls necklaces from the White House Gift Shop.
- Rose Badesch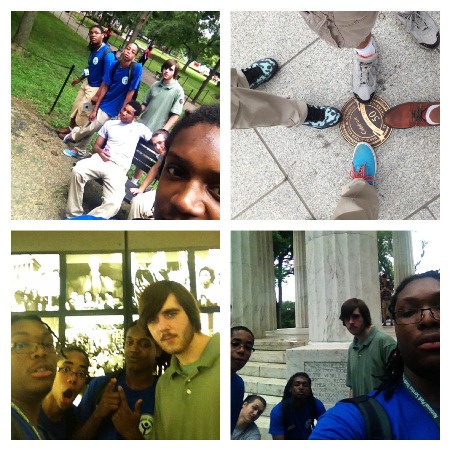 I'm not going to lie… we lost. During the boys vs. girls scavenger hunt we scoured the different sites that dotted our answer sheet. It was hot and tiring and it didn't help that my group had to walk 20 minutes to get to the first site on the page and another 2 hours to get to all of the other sites and back to HQ. We struggled through hardships and pains to get to our goal and we were utterly exhausted when we got back to HQ. Later that week we got word that the girls had dominated the guy's team 120 to 95 or so. We were all distraught. Was all that work for nothing? My team checked out the different answers to both of our scavenger hunt papers and found a bone chilling sight. The point scale was off, way off. If both teams were to get the same exact right answer but one team wrote more than the other then they would get more points. This wasn't that big of a deal, the problem was the rule only applied if it was in the girl's favor. For example, a question asked what year a time capsule would be opened; the boys said 2061, the girls said something around, 2061 April 1st. They got the point even though we were both right. But on the other hand, when the boys answered a question about who did a certain task we gave the entirety of what they did, what school they went to and so on and so forth while the girls just gave the name. We got the same amount of points. So even though we lost we took it upon ourselves to find out who the real winner was, and when the dust cleared and it was all said and done… we still lost.
- Elijah Prince
The Maintenance Project at the Boy Scout Memorial
Today we went to clean the Boy Scout Memorial. When I heard this, I said okay cool leaf picking and maybe weeding. We walked to the memorial and I see Mr. Ellis, one of the maintenance workers at President's Park. He had something in his hand which was attached to, what looked like, a generator. I realized what it was, and then yelled POWER WASHER! On the way to the Boy Scout Memorial, I had no idea that we were going to be cleaning the fountain at the memorial with a power washer. We began to take turns with the power washer, and I of course had to go first. The power washer had so much power that it began to immediately take the dirt, grime, and gunk right off the surface of the marble. It was really intense and I don't think anyone wanted to leave.

I don't think I have ever had that much fun cleaning before. I was so excited that I even suggested to come back next week. I hope we clean the memorial again, before the summer is over. This was really fun and we really did a great job cleaning the fountain at the memorial, making it look refreshed and renewed.

- Andrew Burns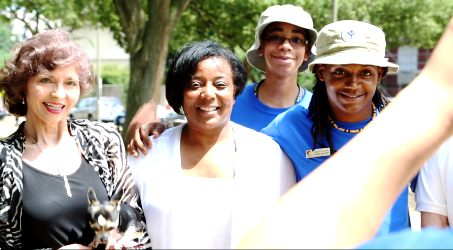 The Interesting and Powerful History of the Merry Go Round on the National Mall
Today, the YCC participated in a teacher workshop. The workshop was very inspirational and a learning experience for me. There is a merry go round on the national mall. I knew it was there but I never paid much attention to it or thought it had any significance until today. I met Sharon Langley, who was the first African American to integrate an amusement park in Maryland by riding this merry go round. We rode the merry go round almost four times and I got to ride the same horse that Sharon Langley rode! For a moment I felt as though I was a part of history. This was a very inspirational and exciting moment. Anytime I pass the merry go round with someone I will share this story so they might take it as importantly as I did.
- Justyc Hicks
This year I have met a lot of civil rights leaders including Reena Denise Evers, who was the daughter of Medgar Evers, Bill Cobbs, and most recently I met the woman who changed other peoples perspectives by riding a merry go round. Her name was Sharon Langley. After meeting all these great people, I'll probably meet the first African American President! Sharon Langley was a very interesting and kind person to meet. I had a conversation with her where I told her that I was interested in majoring in animation in College. Like very few would tell me, she praised my decision and told me to stay true to what I want to do. I've had a really great privilege to meet someone who struggled very hard for me to have a great life today. We all have that "Once in a Life Time Experience" to see or meet someone incredible. We should all take advantage of these situations.
- Wallace Phillips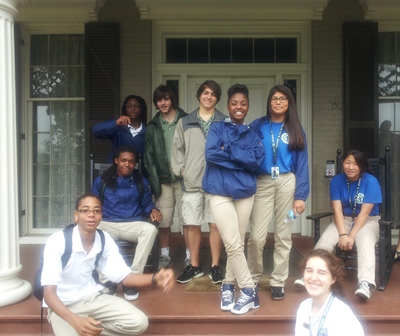 The Trip to Frederick Douglass National Historic Site
Today we went to see the Frederick Douglass National Historic Site. We had the opportunity to meet the YCC members from Rock Creek Park. One of the things I learnt was Frederick Douglass was married twice. His first wife was named Anna, the mother of his four kids. When she past away, Frederick Douglass remarried a white woman, Helen Pitts. When Frederick Douglass married Helen Pitts, the children thought it wasn't right because she was not the same ethnicity and also, they felt as though it was to early for Frederick Douglass to remarry.
- Justyc Hicks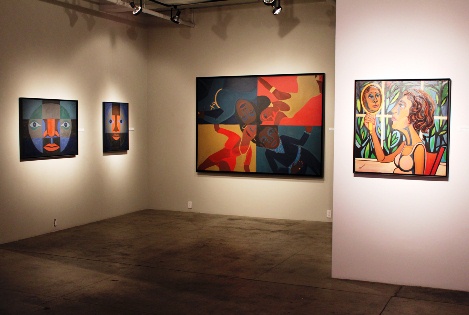 © Arts Observer
The Afternoon at the Faith Ringgold Art Exhibit

The highlight of today was seeing the Faith Ringgold art exhibit at the National Museum of Women in the Art. The art in the gallery expressed her political views. I personally believed the best pieces of art was "Die" and "Post Stamp". Die was my favorite because of message it depicted. In the painting, it has everyone killing each other over race, while there are two children in the middle of this killing riot who are holding each other for protection. The reason why this is so important is because the children are of opposite sex and race supporting each other.
- Justice Bryant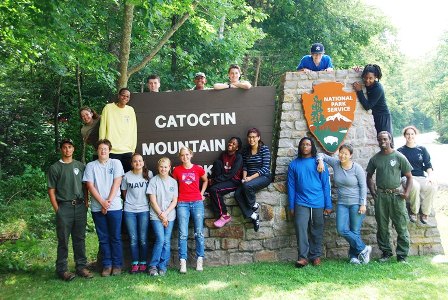 The Camping Trip To Catoctin Mountain Park
I've gone camping sixty five times before and I find it to be an overrated experience. Every time I've gone, it has mostly been with my Boy Scout troop. It's very rare for me to go with someone besides my Scout troop. Camping with the YCC has really become my favorite part of working with the YCC this summer. Spending time with new friends and getting new experience is all someone really needs. Cooking chicken over a fire was a great lesson of cooking, and there was no cooking oil required. The only disappointing part is that we only stayed one night. I'd love to have stayed for one more night. I don't know if anyone had a good sleep though. There was always a different alarm noise going off at around four or five am. The real reason why I wanted to stay another night was mostly because I wanted to stay with nature a little longer. When we went to Harper's Ferry, old memories had come back to me. I've been there once on a biking trail with my Boy Scout troop. I was actually surprised to find out that Harper's Ferry was a historic Civil War sight. I hadn't gone camping in four years. I really enjoyed this new experience.
- Wallace Phillips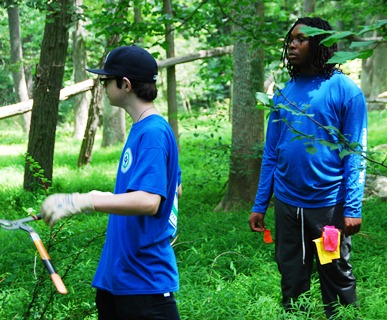 Early Wednesday we set out for Catoctin mountain Park. We all wore pants and long sleeves to be prepared for the job ahead. Our goal was to help the YCC of Catoctin to rid the area of invasive species. The plant we were focusing on was Japanese Burberry. To get rid of the plant we first had to learn to recognize it. Grant, the person in charge of the Catoctin YCC, spotted a misleadingly small sample in seconds. Grant told us that the Japanese Burberry not only had to be cut down but later it would be sprayed with herbicide. Our job was to cut off all the branches down to the base and place a small flag by the bottom so Grant could spot it and spray it. As we got to work I soon realized the Japanese Burberry has spikes on it that are sharp and fine enough to poke through cloth, this nasty combination made the plant impossible to handle even with gloves. My partner and I cut down approximately 15 plants. We ate lunch with the Catoctin YCC and then left for our campsite.
Soon after arriving at our campsite we had to pile back in the car to go to an interpretive talk given by the superintendent of the Catoctin Park. To start we talked in depth about the similarities and differences between our two parks. We talked about weather, security, protestors and more. He also talked about the different uses of the park. Chiefly Camp David is located in the park. But there was an older use of the land that he spent most of his time talking about. We learned that during World War II the land was used to train U.S. spies.
The next day we went to Harpers Ferry and we met with Kenneth Davis. Kenneth is part of the team that designs exhibits for the national park visitor centers. For an ice breaker activity we talked about our personal passions. I brought up business and chemistry for interests. Then as a group we looked for connections between our passions and the National Park Service. The connection between chemistry and the National Park Service was less obvious but there was a strong bond. The conservation of nature document and artifacts are all improved by the study of chemistry. Ken looks at all aspects of an exhibit from theaters with documentaries to the font style of a quote. There are many steps to designing a new exhibit, but the first step is an on-site visit. That way Ken is able to check out the existing structure. Sometimes there are statues or art from the original exhibit that are worth keeping.
Ken's job seems incredibly interesting He reminded me of my friend that want to major in museum curating. It's not the same thing that Ken does but they are similar fields. The trip to Harpers Ferry was a great chance not only to learn about NPS jobs but also different careers and interests that I might want to pursue.
- Cailyn Keely