White House Fence Restoration and Sidewalk Closure

The National Park Service is restoring the White House fence along Pennsylvania Avenue, portions of which are believed to date back to 1818. During this restoration work, sections of the White House sidewalk will be temporarily closed for public safety. More »
Construction Project Affecting the White House Sidewalk

Due to a construction project, a portion of both the White House sidewalk and Pennsylvania Avenue near East Executive Avenue will be closed until April 2015.
Outdoor Activities
There are many opportunities for outdoor activities at President's Park. This page contains information on the different activities offered here.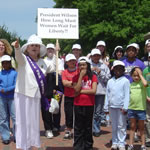 Interpretive Program
Participate in park's interpretive programs or special events. Look for a park ranger or volunteer for more current information on these programs or visit "Schedule of Events" page.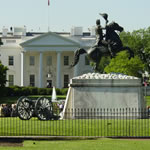 Explore President's Park

Looking for a place in downtown Washington, D.C. to enjoy open space and spend time with time with history? Come walk with our nation's stories in President's Park.
Click here
for information on two designated trails in our park.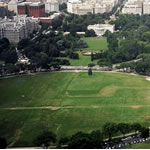 "Be Fit, Have Fun, Get Healthy in Your National Parks"
President's Park provide a wide array of healthful activities including walking, jogging, and bicycling, and other physically active and healthy fun.
Jog or walk a lap or two around the Ellipse sidewalk. (one lap = 0.6 mile)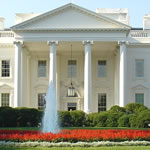 Photography
A great location to take photographs of the White House, Washington Monument, Jefferson Memorial, Lafayette Park, National Christmas Tree and many more!
A picture is worth a thousand words!


Did You Know?

The first President to ride in an automobile was William McKinley. He was shot during the Pan American Exposition in Buffalo, NY. President McKinley was taken to the hospital in a 1901 Columbia electric ambulance.