White House Fence Restoration and Sidewalk Closure

The National Park Service is restoring the White House fence along Pennsylvania Avenue, portions of which are believed to date back to 1818. During this restoration work, sections of the White House sidewalk will be temporarily closed for public safety. More »
Construction Project Affecting the White House Sidewalk

Due to a construction project, a portion of both the White House sidewalk and Pennsylvania Avenue near East Executive Avenue will be closed until April 2015.
National Christmas Tree Music Program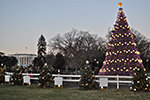 NPS / A. Garrison
National Christmas Tree Music Program
The 2014 National Christmas Tree Music Program will begin with performances on Wednesday, December 10 and continue through Monday, December 22, 2014.
Application Process
President's Park will accept applications beginning Wednesday September 17, 2014 through Wednesday, October 01, 2014. Faxes or e-mails received by 12 midnight (EDT) of the closing date will be considered for selection.
2014 National Christmas Tree Music Program Application
Selection Process
Due to the popularity of the music program, each group will be limited to one performance. It is important to prioritize the three possible dates you wish to perform. Your application will be placed in a first-choice date category along with other first-choice date applicants. One member of the committee will then randomly select the performers for that particular date. If not selected, your application will be placed with second-choice date applicants and so forth on to the third-choice date group. If not selected at all, your application will be placed on a waiting list in the event that a group is unable to perform. Each group is permitted to submit one application.
It is important to note that only applications that are completely filled out will be considered. If you applied in previous years please do not submit a past application. All groups interested in performing should submit the 2014 application.
Within three weeks of the closing date of the application process, the Music Program Coordinator will contact each group about selections and scheduling.
Questions
If you have questions about the application process or would like to know more about the National Christmas Tree Music Program please contact the Music Program Coordinator.
Did You Know?

Harrison delivered the longest inaugural address, and was the 1st president to die in office, about 32 days after elected. On March 4, he gave a 105 minute speech and did not wear an overcoat or hat. He developed pneumonia and died in the White House one month after giving his speech, on April 4.