White House Fence Restoration and Sidewalk Closure

The National Park Service is restoring the White House fence along Pennsylvania Avenue, portions of which are believed to date back to 1818. During this restoration work, sections of the White House sidewalk will be temporarily closed for public safety. More »
Construction Project Affecting the White House Sidewalk

Due to a construction project, a portion of both the White House sidewalk and Pennsylvania Avenue near East Executive Avenue will be closed until April 2015.
Lighting of the National Christmas Tree History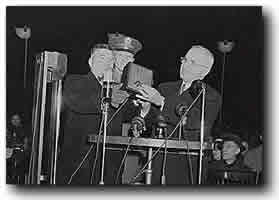 NPS/Historic Photograph Collection, Harpers Ferry Center
How is the Tree Lit?
The Switchbox Connection
Did you ever wonder how presidents and other dignitaries actually light the tree? It's not quite as simple as plugging in a few strands of lights.
In 1923, President Coolidge pushed a button at the end of a long cord which was attached to batteries stored beneath the branches of the 1923 tree. By the mid-1930s, a formal 'switch' box was introduced. Occasionally fitted with a switch - sometimes fitted with a button - the box has been held by each succeeding President. An engraved plaque containing the participating President's names is placed and when filled, replaced on the box. Between tree lightings the box remains in the possession of the President's Park.
To learn more about the lighting ceremonies, browse by years at left. If you are interested in exploring details of the trees themselves, the individual pages are available for each tree.
---
History of the tree lightings to 2000 by C. L. Arbelbide.
About the author
C.L. Arbelbide is a librarian, author and historian who specializes in federal holiday history. She is an author of the children's book, The White House Easter Egg Roll that was published in 1997 by the White House Historical Association. Ms. Arbelbide also contributes articles on federal holidays to the National Archives journal, Prologue.
Did You Know?

On October 4, 1924, First Division Monument was the first memorial built in Washington, D.C., in honor of the valiant efforts of the soldiers who fought in World War I. Later, the World War II, the Vietnam War, and the Desert Storm were added to the memorial.