White House Fence Restoration and Sidewalk Closure

The National Park Service is restoring the White House fence along Pennsylvania Avenue, portions of which are believed to date back to 1818. During this restoration work, sections of the White House sidewalk will be temporarily closed for public safety. More »
Construction Project Affecting the White House Sidewalk

Due to a construction project, a portion of both the White House sidewalk and Pennsylvania Avenue near East Executive Avenue will be closed until April 2015.
1934 - 1938 Tree Lightings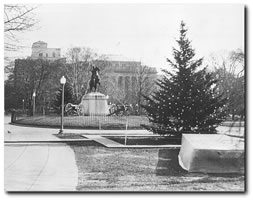 National Park Service Historic Photograph Collection/Harpers Ferry Center
Lafayette Park

In Lafayette Park, north of the White House, two Fraser fir trees were planted, in 1934, on the east and west sides of the Jackson Statue in hopes that they would be used in alternate years. President Franklin D. Roosevelt never missed the ceremony nor the opportunity to deliver a Christmas Eve message heard by radio listeners coast to coast. During one on the lighting ceremonies the President repeated pushed the button only to have the tree remain dark. Newspapers later reported the button pushed by the President actually signaled an electrician (stationed down a manhole under the street) to light the tree.
by C. L. Arbelbide
January 6, 2001

Did You Know?

On June 10, 1933, President Franklin Delano Roosevelt signed Executive Order 6166, which placed jurisdiction of all the public lands in the federal city, including the President's Park, under the Department of the Interior's National Park Service.