White House Visitor Center Rehabilitation and Closure Information

The White House Visitor Center is closed for rehabilitation. A temporary visitor center is located near the Ellipse Visitor Pavilion, just west of the intersection of 15th and E streets, NW.
1934 - 1938 Tree Lightings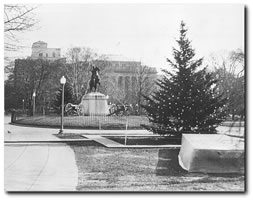 National Park Service Historic Photograph Collection/Harpers Ferry Center
Lafayette Park

In Lafayette Park, north of the White House, two Fraser fir trees were planted, in 1934, on the east and west sides of the Jackson Statue in hopes that they would be used in alternate years. President Franklin D. Roosevelt never missed the ceremony nor the opportunity to deliver a Christmas Eve message heard by radio listeners coast to coast. During one on the lighting ceremonies the President repeated pushed the button only to have the tree remain dark. Newspapers later reported the button pushed by the President actually signaled an electrician (stationed down a manhole under the street) to light the tree.
by C. L. Arbelbide
January 6, 2001

Did You Know?

This view can be found on the back of your $10 bill and it's located in President's Park! Park Rangers called this area "The $10 view". Do you know what is on the back of the $20 bill?