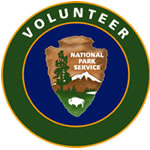 President's Park is looking for that special volunteer that likes interacting with people from all over the world. Whether greeting visitors and answering questions, helping with White House tour operations, working special events, or assisting with education programs, volunteers make a difference.
Last year, more than 1,735 volunteers contributed nearly 29,000 hours of service to standard operations, special events, and education programs.
Two ways to get involved:
Volunteer for Special Events including the National Christmas Tree Lighting, Easter Egg Roll, Garden Tours, and Inaugurations.
Volunteer on a regular basis. H

elp our maintenance crew with gardening, help manage the White House tour lines, lead educational programs, and help younger visitors earn Junior Ranger badges.
Who can volunteer?
Basically, anyone can volunteer, though some positions may have age limits. Volunteers must be physically able to do the job agreed upon. Youth under the age of 18 may volunteer with the written permission of a parent or guardian. Youth interested in paid summer employment may read more about opportunities at President's Park at our park's youth programs site. If you're not in the Washington, DC area, the National Park Service Youth Programs website will have information on programs throughout the country. President's Park is currently seeking Boy Scout volunteers for a number of positions within the park.
To learn more about volunteering at President's Park, please contact the
Volunteer Coordinator by e-mail
or call 202-208-1631. Before volunteering, you will need to complete a
volunteer application
(PDF).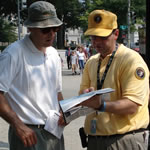 Visitor Services
Visitor Services Volunteers work at the information desks at the White House Visitor Center or at the Ellipse Visitor Pavilion, help with White House tour operations, or rove the park. Most volunteers work 4-6 hour shifts, once a week. For more information, click here (PDF).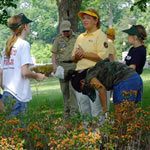 Resource Management
Volunteers who join the President's Park Patrol help to preserve and maintain the cultural landscape features of the Ellipse, Sherman and Lafayette Parks - all part of the President's back yard. They learn about the history of the green spaces surrounding the grounds of the White House while cleaning or assessing the condition of structures, weeding monument gardens, or gathering trash. This is a great way to take an active role in supporting your national park. For more information, click here (PDF).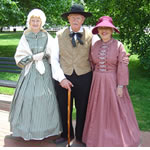 Education
Are you a teacher, retired teacher or pursuing a career in teaching? Do you love history and enjoy working with children? If you are interested in learning about President's Park and sharing your knowledge with others, consider becoming an Education Volunteer. Volunteers develop and present guided walks and interpretive programs, assist with student education programs, and/or perform roving interpretation along park trails. For more information, click here (PDF).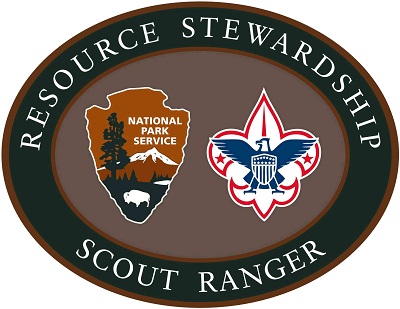 "Adopt" the Boy Scout Memorial
Resource Stewardship Opportunity for Scouts
The
Boy Scout Memorial
is one of the few memorials in Washington, DC that commemorates a living group or person. The memorial was dedicated on November 7, 1964 and underwent a major rehabilitation in 2009.
As part of a
nationwide program
to introduce scouts to resource stewardship and to continue to honor Scouting and the improvements to the site undertaken in 2009, President's Park is currently recruiting volunteers for two positions: 2 to 3
conservation volunteer coordinators
(must have achieved rank of Eagle Scout in the Boy Scouts of America) and
Boy Scout Troops, Varsity Scout Teams, or Venturing Crews
to "adopt" the memorial as a group.
The conservation volunteer coordinators will work with park staff to schedule and guide the adopting group. Working with the group, they will oversee their work to maintain the memorial and surrounding area; in addition, they will help the scouting group lean more about the memorial and President's Park by delivering a short overview of the park and memorial and providing time for reflection on the role of scouting and volunteer service in meeting the needs of the nation.
Adopting Boy Scout Troops, Varsity Scout Teams, or Venturing Crews will work for approximately two hours on one (or more) Saturdays between March 2013 and Thanksgiving. Working together and with park maintenance staff, the conservation volunteer coordinators and adopting groups will help to maintain the memorial statue, base, fountain and surrounding deck area, as well as other adjacent portions of the park.
Details of these two positions are available as PDF files: