White House Fence Restoration and Sidewalk Closure

The National Park Service is restoring the White House fence along Pennsylvania Avenue, portions of which are believed to date back to 1818. During this restoration work, sections of the White House sidewalk will be temporarily closed for public safety. More »
Construction Project Affecting the White House Sidewalk

Due to a construction project, a portion of both the White House sidewalk and Pennsylvania Avenue near East Executive Avenue will be closed until April 2015.
Teacher Workshops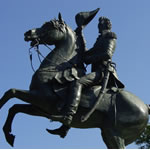 NPS
Teacher Symposium: The War of 1812 and Washington, DC
July 7-11, 2014 | 8:00 am to 3:30 pm
White House Visitor Center
To introduce educators to the War of 1812, President's Park will host its third teacher symposium on the conflict. The symposium includes several day trips to different historic sites along with presentations by scholars and authors regarding content and skills that can be used in the classroom. One major objective of the symposium is to introduce the international education program and show educators how this program can be incorporated into the current standards that already exist at the high school, middle school and upper elementary levels. A commitment to participate in the international education program is encouraged, but not necessary, for attendance at the symposium.
Registration
Address check to:
National Park Service – President's Park
Mail check to:
National Capital Region
WHL / Room 344
Attn: Kathy Langley /Teacher Symposium War of 1812
1100 Ohio Drive
Washington, DC 20242
More Information
For more information, contact either Kathy Langley, White House Visitor Center manager, at (202) 208-0747 or by email at Kathy_Langley@nps.gov, or Katherine Somerville, Director of Programs, The Octagon House, at (202) 639-7616 or Katherinesomerville@aia.org.
Did You Know?

Thomas Jefferson wrote his own epitaph never mentioning that he served as president. His epitaph read, "Author of the Declaration of American Independence, Author of the Statute of Virginia for Religious Freedom and the Father of the University of Virginia.