White House Visitor Center Rehabilitation and Closure Information

The White House Visitor Center is closed for rehabilitation. A temporary visitor center is located near the Ellipse Visitor Pavilion, just west of the intersection of 15th and E streets, NW.
White House Fence Restoration and Sidewalk Closure

The National Park Service is restoring the White House fence along Pennsylvania Avenue, portions of which are believed to date back to 1818. During this restoration work, sections of the White House sidewalk will be temporarily closed for public safety. More »
Teacher Workshops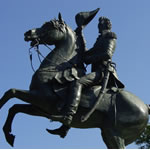 NPS
Teacher Workshop: "War of 1812, America's Forgotten War"
August 5-9, 2013 | 8:00 am to 3:30 pm
Free, stipend provided.
Informational Flyer (PDF)
Registration Form (PDF) [registration closed Friday, June 28, 2013]
During the Workshop
This teacher workshop will examine the impact that the War of 1812 had on Washington DC, the White House, the Octagon House, and beyond. There will be guest speakers who will lecture during the week. Speakers will focus on a different components of the War of 1812. Areas covered will include: an overview of the War of 1812, Native Americans, African Americans, music, and White House history. At the conclusion of each presentation there will be group facilitation on how to incorporate those components into a classroom discussion. Participants will take a guided bus tour with a local historian and retrace some of the historic routes that British and American troops took during battles of War of 1812. Once participants have a deeper knowledge of the War of 1812, they will be introduced to a comprehensive lesson plan including multiple media sources that can be applied in the classroom with students.
Workshop staff will demonstrate for teachers how to use PhotoStory3 and other media sources to produce a short video using primary documents to tell the story of their state or district and the War of 1812. Teachers will also have the opportunity to be introduced to partner schools in Ghent, Belgium to explore international collaborative programs on the War of 1812 in the United States and present-day Belgium and to exchange student-produced video and other media. Each workshop participant will begin a draft outline of his or her own activity or programs to be accomplished in the 2013-2014 school year.

Following the Workshop
Back in the classrooms, teachers can explore how the War of 1812 impacted their individual state and community. The teachers will have their students produce a movie, a video, a dance performance, a music presentation, reenactments and/or an app on how the War of 1812 impacted their community. The US-based students will be able to conduct a discussion with partner schools in Belgium by using facilities at the American Institute of Architects headquarters building in Washington, DC, if desired. We anticipate that not all the teachers in the teacher workshop will be able to commit to working with an international school. For those teachers, their students will still be able to participate. Those students can still produce a video, works of art, or reenactment. All participating teachers and students will have an opportunity to take a field trip to President's Park and the Octagon House to film and reenact the signing of the Treaty of Ghent that ended the War of 1812.
At the completion of the teacher workshop, teachers will be paired with their partner school in Belgium. This international educational component will have students from the US and Belgium produce their interpretation of the War of 1812 and/or the Treaty of Ghent as it impacted their countries, counties, cities, or regions. The students will also produce a short biography of themselves and their community for their partner school. President's Park and the Octagon House will have staff available to assist teachers throughout this process including onsite visits to the schools and coordinating and scheduling the international aspects of the program. We will also have experts available to answer questions about various multimedia software.
Did You Know?

Abraham Lincoln was the first president to wear a beard and the tallest president at 6 foot, 4 inches.