White House Visitor Center Rehabilitation and Closure Information

The White House Visitor Center is closed for rehabilitation. A temporary visitor center is located near the Ellipse Visitor Pavilion, just west of the intersection of 15th and E streets, NW.
Professional Development
President's Park and the Octagon Museum present a 5-day paid teacher symposium on the War of 1812, America's forgotten war, in a place based learning environment in the Washington, DC area. At the conclusion of the symposium, teachers will have an opportunity to develop international curricula with partner schools in Belgium.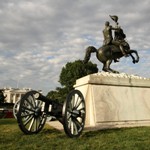 War of 1812, America's Forgotten War Teacher Symposium
Learn More