White House Fence Restoration and Sidewalk Closure

The National Park Service is restoring the White House fence along Pennsylvania Avenue, portions of which are believed to date back to 1818. During this restoration work, sections of the White House sidewalk will be temporarily closed for public safety. More »
Construction Project Affecting the White House Sidewalk

Due to a construction project, a portion of both the White House sidewalk and Pennsylvania Avenue near East Executive Avenue will be closed until April 2015.
Professional Development
President's Park and the Octagon Museum present a 5-day paid teacher symposium on the War of 1812, America's forgotten war, in a place based learning environment in the Washington, DC area. At the conclusion of the symposium, teachers will have an opportunity to develop international curricula with partner schools in Belgium.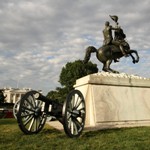 War of 1812, America's Forgotten War Teacher Symposium
Learn More