Weir House, Weir Studio, and Young Studio Under Restoration

The historic Weir House, Weir Studio, and Young Studio are currently undergoing restoration and are closed to the public. The Burlingham House Visitor Center and park grounds remain open and available during regular hours. More »
Brochures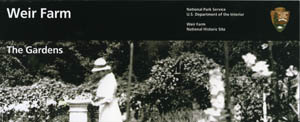 Garden Brochure
Explore the Secret Garden (c.1915), the elegant Sunken Garden (c.1930s), and the terraced gardens that cover the landscape. Julian Alden Weir's three daughters, especially his youngest Cora Weir Burlingham, created these beautiful garden landscapes which are still enjoyed by visitors today.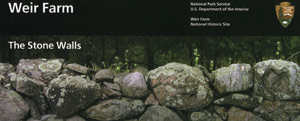 Stone Wall Brochure
Historic stone walls crisscross the landscape of Weir Farm National Historic Site. Learn about the stone walls on the property -- from their glacial history to their modern day uses.


Did You Know?

Weir Farm National Historic Site is one of two visual art sites in the National Park Service.  The other site is Saint-Gaudens National Historic Site in Cornish, New Hampshire, dedicated to the sculptor Augustus Saint-Gaudens. More...