Artwork - Dorothy Weir & Mahonri Young
Dorothy Weir Young (1890 - 1947)
After her father's death, Dorothy would manage the 253-acre property in Branchville and care for her step-mother Ella Baker Weir. Dorothy would inherit the property in 1931, give 60-acres to Cora Weir Burlingham, and marry Mahonri Young. Although she was dedicated to preserving her father's legacy, this gallery is dedicated to the works Dorothy created later in life.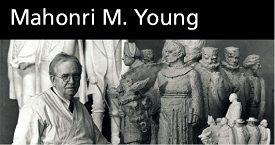 Mahonri Mackintosh Young (1877 - 1957)
Born in Salt Lake City, Mahonri Young would eventually move to New York to help further his art career. When he married Dorothy Weir, in 1931, he began living and working at Weir Farm. He would have a studio built in 1932 that would serve as a creative space for a some of his most well-known pieces.