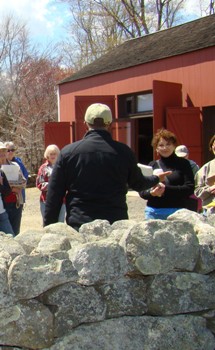 NPS
August 2015 Visitor of the Month: Costanza
The month of August is upon us and with the warm summer days, the park becomes filled with painters. With all of these painters in the landscape, it is high time the visitor of the month is a painter. This month we highlight Impressionist painting Costanza Baiocco.
The park's importance to early American Impressionist painters first lured Costanza out to the Connecticut countryside many years ago. Once here, she was "thrilled to learn that Impressionism is alive and well at Weir Farm!" Her favorite memory comes from a beautiful fall day when she came out to the park with one of her painter friends to set up and paint. We can almost picture it in our heads, because the colors in the park are particularly vibrate and warm during the fall.
Costanza loves to come to the park and paint in the landscape. Although her visits are not as frequent as she would like, with a daughter living in Westport Costanza plans to make many more trips to the park. One of the reasons that she wants to return stems from how the park is "resurrecting Impressionism and making it viable again! The environs are magnificent, the painting studios wonderful. The entire staff is so congenial and committed."
Besides Weir Farm National Historic Site, Costanza has visited all of the national parks out in California and Oregon. There are some amazing parks out west it must have been inspiring to visit them!
Costanza has a Ph. D. and a J.D. having taught at major universities and practiced public interest law, but her hobbies and interests include flamenco dancing, studying Spanish, philosophy, and quantum physics. Like Julian Alden Weir, Costanza is a member of the prestigious Salmagundi Club. Although she has seen numerous continents, her favorite place is wherever she is now. Hopefully that place will soon be Weir Farm National Historic Site!
Costanza, thank you for continuing a 133-year legacy of artists coming to the top of Nod Hill and being inspired by what they see here! From all of the staff here we love that you are continuing to showcase Impressionism in your own work. Thank you for being such a great ambassador!!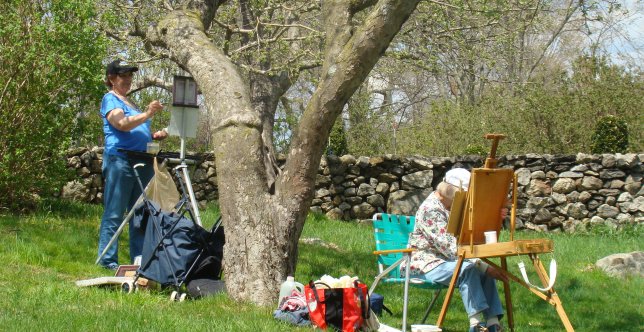 NPS