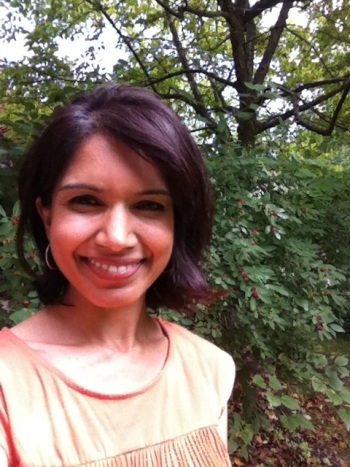 July 2015 Visitor of the Month: Shubhada Kambli
Welcome to the July 2015 installment of Visitor of the Month! This month, we are highlighting one of the park's awesome visitors, who also grew up in the area! Shubhada Kambli is the executive director of Groundwork Bridgeport. During the summer, Groundwork Bridgeport works with inner city youth in a variety of projects focused on improving their local community. This summer, students from Groundwork Bridgeport and staff from Weir Farm National Historic Site will collaborate to help restore areas of the park, while the students learn about their local national park!
Shubhada told us that she loves the sense of serenity she feels when coming here. This is the same feeling of peace and contentment that kept the previous generations of artists coming back to the Land of Nod. Shubhada particularly enjoys the natural peaceful environment of the Secret Garden. However, as someone with a self-described loved for all antique knickknacks, weathered woodwork, and textiles the studios and the Weir House cannot be beat!
When we asked what she remembers from her first visit to the park, she said that memories flooded back to her of time spent in nature;but she was also thrilled to learn about the history of the families that lived here. However, her favorite memory of the park is the staff. She thinks that everyone on staff are, "exceptionally supportive and caring individuals who truly care about creating a community amenity that offers a peaceful, creative space for generations to come. I believe they're heroes!"
A native of Connecticut, Shubhada's family has lived in the state for more than 40 years. Shubhada grew up in Redding and Norwalk but built environmental programs throughout the country on the local, state, and federal levels. It is wonderful to have her back in Connecticut and visiting the natural areas in this state.
For her next visit, Shubhada cannot wait to bring her sweet seven-pound dog, Reina, by the park to get more stamps in their park passport book. Shubhada, you and your puppy are welcome to roam around the park anytime between sunrise and sunset. We are very excited to see you back at the park and cannot think of a more passionate person to help instill resourcefulness and community pride to the next generation of leaders and achievers. Thank you for sharing Weir Farm National Historic Site with communities across Connecticut.