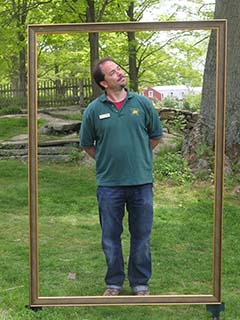 NPS
November 2014 Visitor of the Month: Henryk
November is a great time of the year to spend with family and friends. What better way to celebrate this month's Visitor of the Month than with a dear friend and long-time visitor to the park, Henryk. Henryk is the Executive Director of the Woodcock Nature Center, a private non-profit partner and neighbor of Weir Farm National Historic Site.
Fourteen years have passed, but Henryk still vividly recalls his first visit to Weir Farm National Historic Site. He stopped at the park before his interview at Woodcock Nature Center because he was amazed that a national park was so close to his home. After the interview, Henryk stopped again and was captivated by the beautiful color of goldenrods that greeted him and could not wait to come back and explore more. Woodcock's proximity to Weir Farm National Historic Site convinced Henryk to take the job, and "Weir" so glad he did.
Henryk has always managed to find himself close to a national park. He remembers being lucky enough to spend two and a half months crisscrossing the country as a youngster visiting and cleaning up national parks along the way. He still has many of the Junior Ranger badges he earned at "transformative" parks like Sequoia National Park and Grand Canyon National Park. Looking back on those days, Henryk thinks the National Park Service played "a huge part in who I am";from his appreciation of open spaces to his desire to share that appreciation of nature with all generations. He thinks all the parks are perfect, but Henryk really enjoys bringing his family on camping trips to Acadia National Park in Maine.
Although he loves to visit Acadia, Henryk said, "far and away the people [staff]" at Weir Farm National Historic Site keep bringing him back to visit. He said, "the quality of the people, from facilities to administration are just incredible and make all the difference"; which is probably why one of Henryk's favorite things to do at the park is talk to the staff. Henryk also loves to sit in the Sunken Garden, the Terraced Garden, or the Secret Gardens because they remind him of English Cottage gardens he enjoyed in his youth. He feels safe in the gardens and they allow him to connect with his past. Henryk has been amazed at the quality of work the National Park Service put into the restoration for the Weir House, the Weir Studio, and the Young Studio. Therefore, it makes sense that his favorite memory comes from the Grand Opening in May of this year. He said, "being considered to participate in the grand opening and be part of the ceremony was tremendous fun. To see everyone and the pride they take at what they do was an honor."
A first generation American, Henryk is "a true tri-stater- born in New Jersey, raised in New York, and now living here in Connecticut." Henryk and his wife raise their two outdoor loving children in their 1795 farmhouse with a pre-1790s barn; surrounded by various types of gardens, a slew of chickens, and honeybees. He enjoyed the multitude of options in the area; from visiting museums and eating delicious food in New York to reconnecting with nature on a nice hike in Connecticut. Henryk also loves to sit in his gardens after a long day of work and take in the changing seasons and conditions. He thinks if we all "just take a second to disconnect we can truly appreciate the changes in the light and color;and open our eyes to what's around [us]". Julian Alden Weir would readily agree with you there Henryk.
Henryk, on behalf of everyone here at the park, thank you so much for everything you do! We are so glad that you choose to come here to reconnect with nature and relax. Plus, the rangers love working with you every summer, bringing art to the camps at Woodcock Nature Center! For more information about Woodcock Nature Center, visit
http://woodcocknaturecenter.org/
and learn more about their upcoming December Wreath Festival.