Weir Farm National Historic Site is located in the Southern New England Coastal Plains and Hills in the southern part of Connecticut. Located in the towns of Ridgefield and Wilton, the park includes: successional old fields, mesic successional hardwood forests, vernal wetland areas, streams, a pond, rocky ridges and two farmsteads with their associated outbuildings.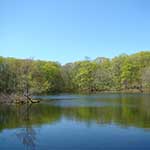 Inventory and Monitoring
Interested in learning more about the park's natural resources? Check out species lists, reports, resource briefs, climate change information, and download a map of the park for Google Earth on the park's
Inventory and Monitoring page
. This informative site is prepared by the
Northeast Temperate Network
, a regional team of resource monitoring experts!