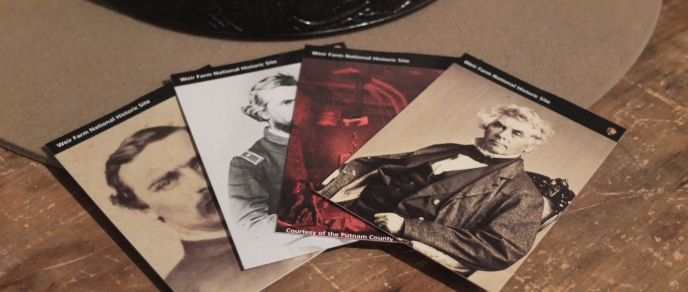 NPS
Calling all Kids! Collect stories about the Civil War and civil rights! The National Park Service is offering more than 500 trading cards to mark the 150th anniversary of the Civil War. You can view all of the cards online and discover stories from nearly 90 national parks in 31 states and the District of Columbia. You'll be surprised at what you will learn.
To earn all 4 trading cards in person, you have the option of completing any of the park's awesome programs during visitor center hours. You can Take Part in Art, participate in either of our Junior Ranger Programs, take a Ranger guided tour, or use our Self-Guiding Walking Tour brochure to explore the landscape! Just tell a Ranger once you've completed any of these activities.

You can even earn all 4 trading cards without coming to Weir Farm National Historic Site! Online visitors can earn the cards by connecting with our Facebook pages and our Twitter! Already connected with us on social media? No problem! Try and locate the nearest Weir painting to your hometown, you might just be suprised by how far his paintings have traveled! Once you've completed these tasks, just call us at (203) 834-1896 and we will send the cards to you.

Please note: most parks only offer the trading cards to on-site visitors, please check with each participating park for earning requirements.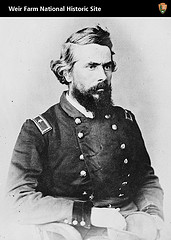 Major General Truman Seymour
1824-1891
In 1852, this former assistant professor of drawing at West Point married Julian Alden Weir's eldest sister, Louisa. Seymour participated in Ft. Sumter's defense, the Peninsula Campaign, South Mountain, and Antietam. Wounded at Battery Wagner, he commanded Union forces (including three African American regiments) at Olustee. Seymour remained lifelong friends with J. Alden Weir, eventually retiring to Europe, where he took up watercolor painting.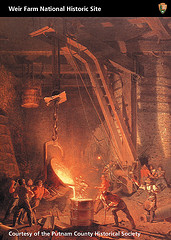 John F. Weir
1841 - 1926
The Gun Foundry - Depicting the Fire Power of the North

John Ferguson Weir's painting depicted the interior of the West Point Iron and Cannon Foundry in Cold Spring, New York, which produced more of the Union Army's heavy artillery and Parrott guns than any other foundry. In this painting, Weir, a veteranof the 7th New York State Militia, celebrated the industrial might of the Northern war effort.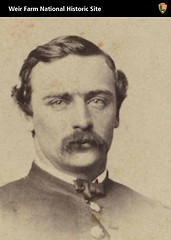 Gulian Verplanck Weir
1837 - 1886
Haunted by War
J. Alden Weir's older brother, Gulian, served in Battery C, 5th US Artillery. Rising to the rank of lieutenant, he saw action at Antietam, Chancellorsville, and Gettysburg. His failure to re-capture three cannons seized by Confederates on the second day at Gettysburg haunted Weir for the rest of his life.
Robert Walter Weir
1803 - 1889
Teacher of Heroes
Appointed Instructor of Drawing at West Point in 1834, Robert Walter Weir later became a full professor - a post he held until his retirement in 1876. Drawing was a practical course for cadets who might become engineers, surveyors, or mapmakers. In addition to teaching his son Julian, cadets like Robert E. Lee, William Tecumseh Sherman, Stonewall Jackson, and Ulysses S. Grant learned the basics of art and drawing from R.W. Weir.