Girl Scouts of Connecticut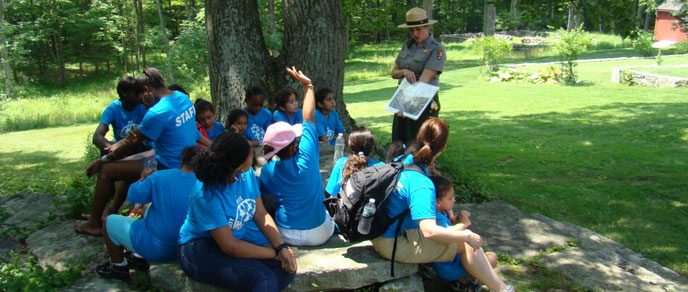 National Park Service
Weir Farm National Historic Site works together with the Girl Scouts of Connecticut to bring inner-city Girl Scouts from the Stamford and Bridgeport, Connecticut communities to the park for educational field days. This partnership program began with a two-year pilot in the summer of 2010 , in which meaningful experiences were provided to nearly 400 underserved minority youth from economically disadvantaged communities. These Girl Scouts experience a full day of immersive, educational programming, thanks in part to transportation funding provided by the National Park Service and the National Park Foundation. They explore the outdoors, build leadership skills, find beauty in nature through art, and learn about their nation's history while building a relationship with their local national park.
During each field day, these non-traditional girl scouts participate in the Art Alive! curriculum-based program, the Take Part in Art program, the Junior Ranger Pond Pack activity, and fun games like the Weir Farm Relay. They are led on tours of the site and an educational hike including nature-based learning activities and unstructured exploration at Weir Pond. At the end of the day, the Girl Scouts are sworn in as official Junior Rangers, and partake in Paintbrush Limbo!

For more information on the Girl Scouts of Connecticut, visit www.gsofct.org.